Former Chancellor of Fort Worth Catholic Diocese Dies

By Darren Barbeed
Star-Telegram

December 27, 2008

http://www.star-telegram.com/804/story/1112864.html

FORT WORTH -- The Rev. Robert Wilson, former chancellor of the Fort Worth Roman Catholic Diocese who sought to involve the laity in the church and was known for his compassionate ministry, died early Christmas morning. He was 76.

The Rev. Wilson, pastor of Holy Redeemer Catholic Church in Aledo, was found unconscious at home and was taken to a hospital where he died, diocese spokesman Pat Svacina said Friday.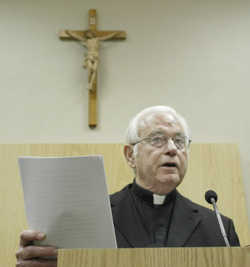 Rev. Robert Wilson, former chancellor of the Fort Worth Catholic Diocese, died on Christmas Day. (Star-Telegram archives/Ron T. Ennis)



"He was a hardworking priest who helped me enormously my first year in Texas," Bishop Kevin W. Vann said. "He was considerate and kind to me and everyone with whom he had contact.

"He shared his vast knowledge [of Fort Worth] with me so I, too, could know Fort Worth."

Often acting as former Bishop Joseph P. Delaney's top assistant, the Rev. Wilson dealt with several sexual-abuse accusations made against diocese priests and was later criticized by diocese officials for his handling of some cases.

But to those who knew him and worshipped with him, the Rev. Wilson was a man who put people and service first. In his last assignment, at Holy Redeemer, he threw himself into the building of a new church for a congregation that has long met in a high school.

He established a relationship with a congregation in Honduras and encouraged his parishioners to put about 120 roofs over the heads of poor families in that country.

Native Texan

The Rev. Wilson was born Oct. 23, 1932, in San Antonio and grew up in Fort Worth.

Frank Bettinger, who attended Laneri High School in Fort Worth with the Rev. Wilson, said he was one of the most popular students in his class.

"He was quite a guy," he said. "He was among the top students in his class. He has always been among the tops in everything he did."

But the future priest also had a competitive side. Once the two friends raced in their cars to St. Patrick Cathedral from Bettinger's home, Bettinger in a 1937 Chevrolet and the Rev. Wilson in a Plymouth.

Bettinger barely won, and "it wasn't very long before he pulled up right behind me."

The Rev. Wilson was ordained a priest of the Dallas Diocese on May 27, 1957. The Fort Worth Diocese was formed in 1969.

The Rev. Tim Thompson of St. Mark Catholic Church in Denton knew the Rev. Wilson for 25 years and said the priest liked to be direct, think through things clearly and be compassionate and understanding of others. Thompson said the Rev. Wilson was committed to the idea of lay people being involved in the life of the church.

"He wanted the church to be open to everyone, to be available to everyone, to find the wisdom of everyone for the leadership of the church," Thompson said.

And Thompson said the Rev. Wilson inspired confidence in many."When he was around, you know you felt a certain sense of security and trust in his presence and judgment," he said. "I think that's why I related to him very well."

Ellen Schwinger of North Richland Hills called the Rev. Wilson "a man's man and a priest's priest."

She remembers a sermon the Rev. Wilson gave at St. John the Apostle Catholic Church in North Richland Hills more than 30 years ago that centered on the story of Don Quixote.

"His closing sentence of that homily was 'This lets you know that you are God's impossible dream,'" she said. The line is from Man of La Mancha, a musical about Don Quixote.

"That's something I never, ever forgot," she said. "Every time I would ever write him a note or Christmas card, I would thank him for letting me know that I could be God's impossible dream."

Abuse scandals

Lawsuits in recent years gave glimpses of the Rev. Wilson's role in the priest sex-abuse scandals of the 1990s that rocked the church and are regarded as a low point in its recent history. Court documents show that in 1993, the Rev. Wilson and another priest placated the mother of the accusers of the Rev. John Howlett in hopes that she wouldn't sue St. Brendan's Church in Stephenville; they gave her thousands of dollars, with the Fort Worth diocese providing some reimbursement.

In December 1994, the Rev. Wilson wrote, "I am glad that we seem to have weathered liability here, and that the family may have become settled enough not to need charity."

And in 1998, a man told the Rev. Wilson that the Rev. James Reilly had fondled him when he was 11. The Rev. Wilson told the man of a similar accusation by an adult but also said that church officials knew of "no other similar incidents with minors."

His notes in the file add that at the time, he had forgotten about a previous complaint against Reilly involving a minor. The Rev. Wilson should have contacted "those who were misled when he forgot, as the files claim," a diocese official said in 2006.

Assigned to Aledo

Delaney died in July 2005, and Vann was installed as bishop. The Rev. Wilson continued to serve as diocese chancellor until 2006, and while still chancellor, was assigned to Holy Redeemer in Aledo part-time.

Richard and Barbara Warriner of Aledo said the Rev. Wilson was interested in being a servant not only to people here but also in Honduras.

"He was very much a part of our lives," Richard Warriner said.

"And of so many lives and so many parishioners," Barbara Warriner said.

She said most people knew on Christmas Eve that the Rev. Wilson was gravely ill, and it was difficult to get through the church service knowing that he would never get to see the new church he had worked so hard to build. It is expected to be completed in April.

"One of the things he had mentioned [several times] was that his time at Holy Redeemer with the parishioners here was the happiest he'd ever been," Richard Warriner said.

Survivors include a nephew and niece.

Services

Funeral Mass will be at 2 p.m. Monday at St. Patrick Cathedral in downtown Fort Worth. Burial will follow in Mount Olivet Cemetery. A wake will be from 3 to 5 p.m. Sunday at Aledo High School.

DARREN BARBEE, 817-390-7126

Contact: Barbee@star-telegram.com