"Doubt" Film Brings in over $1 Million on Christmas Day

By Andrew Gans
Playbill

December 26, 2008

http://www.playbill.com/news/article/124681.html

During its first day in nationwide release, "Doubt," the film version of John Patrick Shanley's Tony and Pulitzer Prize-winning play, brought in an estimated $1,425,000 at the box office, according to boxofficemojo.com.

That figure currently puts the film as the 11th highest-grossing film of Christmas Day. The other top earners on Dec. 25 included "Marley and Me" ($14,600,000), "The Curious Case of Benjamin Button" ($11,700,000), "Bedtime Stories" ($10,325,000), "Valkyrie" ($8,350,000), "Yes Man" ($5,900,000), "Seven Pounds" ($4,750,000), "The Spirit" ($3,825,000), "The Day the Earth Stood Still" ($2,685,000), "Four Christmases" ($2,280,000) and "The Tale of Despereaux" ($1,987,000). (These figures are estimated grosses and will likely change throughout the weekend.)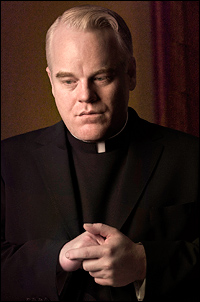 Philip Seymour Hoffman in "Doubt."
Photo by Andrew Schwartz/Miramax Film Corp.


The "Frost/Nixon" film — based on Peter Morgan's Tony-nominated play, earned $470,000 on Dec. 25, which was also the motion picture's first day in nationwide release.

To date "Doubt" has grossed $3,150,000 at the box office.

Academy Award winners Meryl Streep and Philip Seymour Hoffman head the "Doubt" cast, which also includes Amy Adams and Viola Davis. Playwright Shanley not only penned the film's screenplay but also directed the starry film.

In "Doubt," according to press notes, it's 1964 at "St. Nicholas in the Bronx. A vibrant, charismatic priest, Father Flynn (Hoffman), is trying to upend the school's strict customs, which have long been fiercely guarded by Sister Aloysius Beauvier (Streep), the iron-gloved Principal who believes in the power of fear and discipline. The winds of political change are sweeping through the community, and, indeed, the school has just accepted its first black student, Donald Miller. But when Sister James (Adams), a hopeful innocent, shares with Sister Aloysius her guilt-inducing suspicion that Father Flynn is paying too much personal attention to Donald, Sister Aloysius is galvanized to begin a crusade to both unearth the truth and expunge Flynn from the school. Now, without a shred of proof or evidence except her moral certainty, Sister Aloysius locks into a battle of wills with Father Flynn, a battle that threatens to tear apart the church and school with devastating consequences."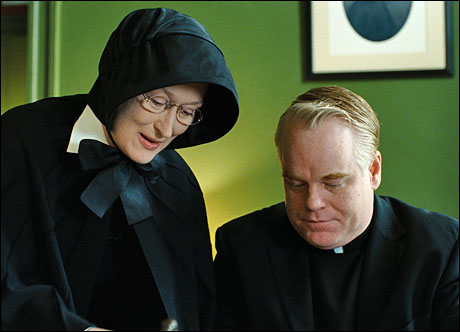 Meryl Streep and Philip Seymour Hoffman in "Doubt."
Photo by Andrew Schwartz/Miramax Film Corp.


The film features production design by David Gropman; editing by Dylan Tichenor; costume design by Ann Roth; music by Howard Shore; sound mixing by Danny Michael, Lee Dichter and Ron Bochar; and sound editing by Ron Bochar. Roger Deakins was the director of photography.

"Doubt" was produced by Scott Rudin and Mark Roybal with Celia Costas as executive producer.

"Doubt" is rated PG-13 and runs 104 minutes.

The play about a Bronx Catholic school nun who suspects a priest of wrongdoing was a sensation from its 2004 start at Manhattan Theatre Club's Stage I Off-Broadway. Doubt moved to Broadway in 2005, snagged the Tony Award for Best Play (as well as two performance awards and one for direction) and played 525 performances before closing in July 2006. The play also won the 2005 Pulitzer Prize for Drama.