Area Priest Accused of Sexual Misconduct

By Natalie Neysa Alund
Bradenton Herald

December 29, 2008

http://www.bradenton.com/news/local/story/1122361.html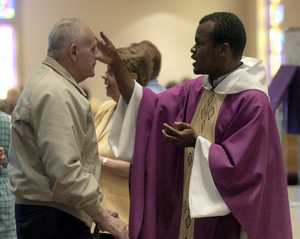 In 2003, Al Lesko, stands before Father Jean-Ronald Joseph, Parochial Vicar at Saint Joseph Catholic Church, as he makes the sign of the cross with ashes on Lesko's forehead on Ash Wednesday.



A local Catholic priest is being investigated for alleged sexual misconduct, according to a statement released Monday by the Diocese of Venice.

The reported molestation occurred in 1993 between a minor and the Rev. Jean Ronald Joseph, now a priest at St. Bernard Catholic Church in Holmes Beach, said Adela Gonzales White, communications director with the Diocese of Venice. The alleged misconduct took place when Joseph was assigned to St. Frances Xavier Catholic Church in Fort Myers.

White did not release the minor's age or gender nor give any specifics on the allegations.

"Father Joseph denies the allegation and strenuously maintains his innocence," White said in the statement.

Joseph, who leads Haitian ministries in Manatee and Sarasota counties, was also formerly assigned to St. Joseph Catholic Church in Bradenton. Before each Mass during this past weekend, Rev. Paul F. McLaughlin, the current pastor at St. Joseph, read to the congregation a letter from Bishop Frank J. DeWane about the allegations against Joseph.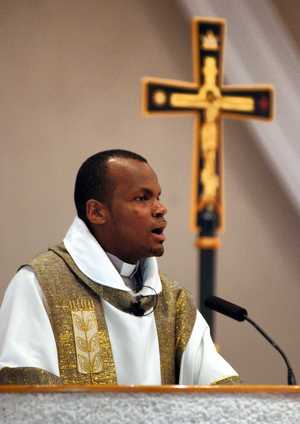 Joseph



Joseph, 44, was ordained as a priest in Florida in October 1993, according to the diocese.

St. Bernard's pastor, Rev. Robert J. Mongiello, and St. Francis Xavier secretary Janet Sushil both declined comment on the investigation and referred calls to the diocese.

Diocese Chancellor Volodymyr Smeryk said that when the allegations arose Joseph immediately removed himself from performing his duties.

If the allegations prove true and if the child was younger than 12 at the time of the molestation, Joseph could be criminally prosecuted.

Bradenton defense attorney Mark Lipinksi said there is no statute of limitations in cases of capital sexual battery, which involve a victim younger than 12.

If the victim was 12 or older during the abuse, there is a statute of limitations — four years — under the law.

Dave Bristow, Manatee County Sheriff's Office spokesman, and Shelly Flynn, Fort Myers Police Department spokeswoman, said Monday their offices were not investigating Joseph.

During an April 27, 2002, homily at St. Joseph, Father Joseph alluded to Catholic clergy sex abuse scandals when he mentioned "the current troubles the church is going through."

He asked the parish to remember Jesus's words to his disciples during the last supper before his death, when he knew that everything would soon break apart and they would scatter and be in hiding, fearing for their lives: "I am the way and the truth and the life."

"Jesus is talking to each one of us today," Joseph said.

The investigation of allegations against Joseph falls under the Policy of the Diocese of Venice in Florida for the Protection of Children and Vulnerable Adults, according to the diocese.

The policy conforms to the Charter for the Protection of Children and Young People approved by the U.S. Catholic Bishops and the Essential Norms for Diocesan Polices Dealing with Allegations of Sexual Abuse approved by the Congregation for Bishops in Rome.

"Anyone who believes that he or she has been sexually abused as a minor by another person connected with the Diocese of Venice in Florida, or any organization, should contact either law enforcement officials or the individual responsible for victim assistance in the Diocese of Venice in Florida," White said. "The Diocese of Venice remains committed to a zero tolerance policy for sexual abuse with a minor."

The diocese's statement says it complies with its policy to protect against abuse and to keep a safe environment in the Catholic Church. All priests, deacons, lay employees and those volunteers who have contact with children and vulnerable adults must undergo comprehensive background screening that includes fingerprinting, the statement continues.

"We pray for the pain and suffering of all victims," White said. "These are very painful times for Father Joseph, the lay faithful as well as the clergy."

To reach the diocese's victims assistance office, call (941) 416-6114. nalund@bradenton.com