Diocese Releases Statement on Accused Ex-fort Myers Priest

The News-Press

December 29, 2008

http://news-press.com/article/20081229/NEWS0110/312290002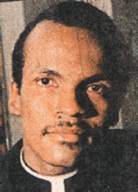 Rev. Jean Ronald Joseph (pictured in 1994)



Rev. Jean Ronald Joseph, a priest accused of sexual abusing a child during his time in Fort Myers in the mid-1990s, denies the allegation and has ceased active ministry, according to the Diocese of Venice.

"At Bishop (Frank) Dewane's request, Father has agreed to remove himself from active ministry while the diocesan investigation is conducted," read a diocese statement released this afternoon. "Father Joseph denies the allegation and strenuously maintains his innocence."

From this mornings editions of The News-Press

A Catholic priest who served in Fort Myers in the mid-1990s is accused of sexually abusing a minor during his tenure here.

In a statement read to the congregation at Masses throughout the weekend, Bishop Frank J. Dewane of the Diocese of Venice informed parishioners at St. Francis Xavier Catholic Church that the Rev. Jean Ronald Joseph, who for a time led the Haitian ministries there, is being investigated for allegations of sexual misconduct.

According to Dewane's letter, read by the bishop himself during earlier Masses at the Cleveland Avenue church and repeated at the Sunday evening Mass, the alleged abuse occurred in 1993 and involved Joseph and a person who at the time was a minor. The letter did not specify the age or gender of the minor, nor did it give any specifics on the allegations.

"Father Joseph denies all allegations," Dewane's statement said. "He strenuously maintains his innocence."

The bishop also stated Joseph has agreed to refrain from performing his duties as a priest while the investigation is conducted.

The church referred all questions to the diocese, which a recorded phone message said was closed until this morning.

According to the diocese's Web site, Joseph leads Haitian ministries in Manatee and Sarasota counties and is listed as a priest at St. Bernard Catholic Church in Holmes Beach.

No one answered the phone at that church Sunday evening.

Joseph was ordained in Florida in October 1993, according to the diocese. In a 1994 interview with The News-Press, Joseph revealed he had fled from his native Port-au-Prince, Haiti, after his brother was slain under the rule of Haitian President Jean-Bertrand Aristide.

It is not clear how long Joseph served at the Lee County parish, but records indicate he was there at least until 1995.

Several people attending Sunday evening Mass at St. Francis Xavier declined to comment as they entered the service.

The bishop's letter did not specify whether law enforcement is involved in this case, but stressed that anyone who knows of any instances of suspected sexual improprieties at any time should contact the diocese or the authorities.

Fort Myers attorney Scott Moorey said there is a statute of limitations — usually four years — on most cases of sexual abuse.

"It is complicated, and it really depends on how old the child was at the time and at what point the incident was reported," Moorey said.

Wilbur Smith, another Fort Myers attorney, said there is no statute of limitations in cases of capital sexual battery, which would involve any child under the age of 12; a child under 18 when there is force or threat of force or coercion; or if the abuser is in a position of parental authority, which Smith said would include a priest or teacher.

Allegations of sexual abuse involving Catholic clergy have gained worldwide attention in recent years. Since the July 1984 creation of the Venice Diocese — which oversees 74 parishes in Lee, Collier, Charlotte, Hendry, Glades, Manatee, Sarasota, DeSoto, Hardee and Highlands counties — at least four priests and two laymen in the diocese have been accused of sexual misconduct, according to The News-Press archives. A recent case involves a lawsuit filed in September against the Rev. Dennis Killion, a former priest at Bishop Verot High School who was accused of abusing four boys at a school in Delaware in the mid-1980s.