Ohio Supreme Court Declines to Hear Robinson's Appeal in Murder Conviction

Toledo Blade

December 31, 2008

http://toledoblade.com/apps/pbcs.dll/article?AID=/20081231/NEWS16/812310250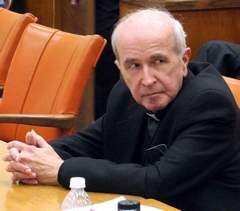 Gerald Robinson's conviction for the murder of a nun will not be heard by the Ohio Supreme Court.



The Ohio Supreme Court declined to hear the appeal of Gerald Robinson, the Catholic priest convicted in 2006 of murdering a nun nearly 30 years ago.

In a brief notation released Wednesday, the high court listed the case under the heading, "Appeals not accepted for review." Justice Paul Pfeifer dissented with the decision and Justice Judith Ann Lanzinger recused herself. There was no explanation given by either justice for their decisions.

Robinson, now 70, was arrested in April, 2004, and convicted by a Lucas County Common Pleas Court jury on May 11, 2006. The Ohio 6th District Court of Appeals upheld the conviction in July.

Defense attorneys John Donahue and Richard Kerger contended in their 122-page motion filed with the Ohio Supreme Court in August that Robinson's case raises substantial constitutional questions, mainly because of the time lapse between the nun's murder and the priest's arrest.

In their response filed in September, prosecutors said that Robinson "received a fair trial and justice was done" in Common Pleas Court and that the appellate court "properly and fairly" upheld the conviction in its July 11 decision.

Police who conducted the investigation in 1980 testified in the 2006 trial that within a few days of Sister Margaret Ann's murder, Robinson was their only suspect. But one high-ranking police official said there was not enough evidence to convict the priest, so no charges were filed.