Church Abuse Lawsuit 'Shakes the Faith'

By Sharahn D. Boykin
Daily Times
January 8, 2009

http://www.delmarvanow.com/article/20090108/NEWS01/901080393/-1/newsfront2

SALISBURY — A Lower Shore diocese's policies and practices, instituted for at least six decades, led to the sexual abuse of a Salisbury teen and other young children, according to a lawsuit filed in New Castle County, Del., Superior Court this week.

The 38-page complaint alleges the Rev. Alfred J. Lind, a former assistant pastor at St. Francis de Sales parish in Salisbury between 1960 and 1963, sexually abused the teenage altar boy who the lawsuit identifies as "John Loe" — now a 62-year-old Salisbury resident.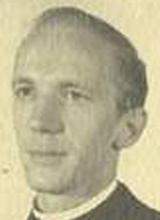 Alfred J. Lind



The most recent lawsuit is one of 27 filed against the Diocese of Wilmington stemming from allegations of sex abuse by its priests.

"Things have happened that have tragically affected people's lives, and we can only try to help people that are victims," said the Rev. Edward M. Aigner Jr., a St. Francis de Sales pastor.

Lind is the second priest at the church to be accused of child sexual abuse in recent months. A 51-year-old man filed a lawsuit in September accusing the Rev. Leonard Mackiewicz of sexually abusing him when he was a 12-year-old altar boy.

The church and the diocese have 20 days to respond to the allegations after the New Castle County Sheriff serves them with the lawsuit and other court documents.

The abuse alleged started as early as 1959, when Lind took Loe and another young boy on trips to Montreal, Canada and Ocean City, according to a written statement from the Neuberger Law Firm, a Wilmington-based law office representing Loe.

"It definitely shakes the faith of the Catholic community, but this has been going on for a long time," said Lola Pusey, a Salisbury resident.

The diocese facilitated the sexual abuse of young children in its parishes, according to the complaint, by shuffling priests known to sexually abuse children from parish to parish, withholding information about abusive priests and employing clergymen with "red flags" in their background.

The legal document references letters dated as early as the late 1940s from various clergymen and diocese officials who indicated some hesitation about taking on certain priests but did so anyway.

"Prudence and the like tell me to pass up the applicant, but the heart and other considerations whisper me to take and give him a chance," wrote then-Bishop Fitz Maurice about the late clergyman, Edward B. Carley, according to the complaint.

Carley, who died in 1998, was listed as one of 20 diocese priests who were accused of sexually abusing minors, according to a letter published by the Rev. Michael A. Saltarelli, a former bishop, in November 2006. Lind was not listed.

Attorneys for Loe allege the diocese knew Lind had sexually abused boys and transferred him in 1963 to St. Catherine of Siena in Wilmington, where he continued to sexually abuse other young children.

Two years later, Lind was moved to St. Elizabeth's in Wilmington, where he stayed till he retired in 1966 at age 35 and after being in the ministry for six years.

In more recent years, the diocese has implemented a number of procedures to protect children, Aigner said, and incidents of sex abuse by priests are less likely to occur.

"It's most unfortunate," said Carol Smith, a Salisbury resident. "It's probably less likely to happen today than in 1960, but parents should always be cautious or vigilant about when their children are spending unaccompanied time with other adults. We do need to be careful where our kids are. It's the kind of thing where you just don't think that's going to happen to your child."

Contact: sboykin@dmg.gannett.com, 410-845-4656.