Priest Denies Wrongdoing, Seeks Public Forum

By Lisa Neff
Anna Maria Islander
January 14, 2009

http://www.islander.org/1-14-09/stb_priest.php

[letter from the Diocese of Venice]

The Rev. Jean Ronald Joseph offers a story of a life devoted to the Catholic Church, a false accusation against him, and a betrayal by men he considers his shepherds.

Joseph, 44, who most recently served at St. Bernard Catholic Church in Holmes Beach, is facing an accusation of sexual misconduct, a recent claim stemming from an alleged incident 15 years ago.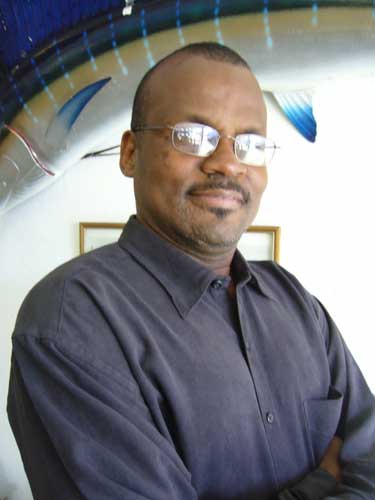 The Rev. Jean Ronald Joseph denies an allegation of sexual misconduct 15 years ago in Fort Myers. Islander Photo: Bonner Joy



He denies the allegation, and he said he wants the opportunity to do so in a public forum, which is scheduled for 1:30 p.m. Wednesday, Jan. 21, at Holmes Beach City Hall, 5801 Marina Drive, Holmes Beach.

Bradenton attorney John P. Fleck Jr., who represents Joseph, also wants the forum.

"Once they made it public, it's public," Fleck said, referring to the Diocese of Venice's disclosure of the allegation.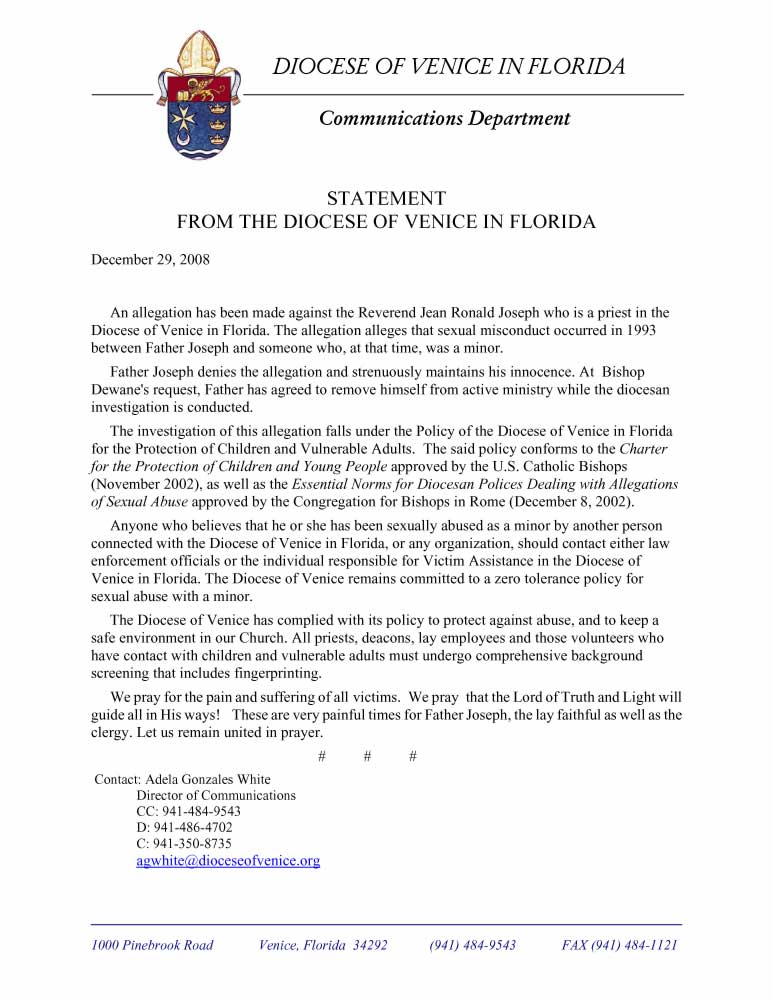 Diocese letter



The two men said they had honored the diocese's request that the allegation and any details of the investigation be kept confidential.

But the diocese broke the confidentiality agreement, providing priests with a letter from the Most Rev. Frank J. Dewane, bishop of the Diocese of Venice, to read at Mass Dec. 27-28, and then releasing a statement to the media on Dec. 29.

The allegation is "that sexual misconduct occurred in 1993 between Father Joseph and someone who at that time was a minor," the bishop's statement read.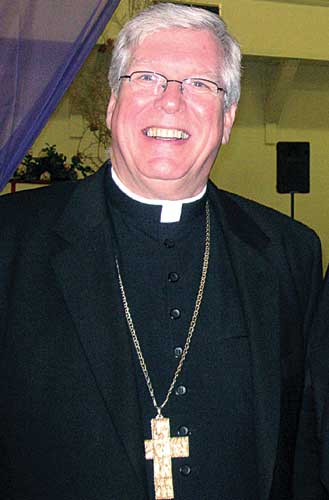 The most Rev. Frank Dewane, bishop of the Diocese of Venice



"Father Joseph denies the allegation and strenuously maintains his innocence. At my request, father has agreed to remove himself from active ministry while the inquiry proceeds."

Fleck learned that the diocese made the investigation public while listening to a radio news report.

Joseph, known to St. Bernard parishioners as "Father Ron," also learned about the letter and statement from news reports.

He thinks the diocese timed the public announcement to take place while he was away.

"I think the bishop thought I was in New Jersey," Joseph said. "But I did not go."

The allegation

The diocese made public the allegation against Joseph, but it declined to provide the media with information regarding the nature of the accusation or many details about the accuser.

Fleck and Joseph provided The Islander with a series of documents, including a letter from the accuser to the diocese, a letter from the diocese informing Joseph of the allegation, and several other papers.

"We have nothing to hide," Fleck said.

An Aug. 9, 2008, letter from a 31-year-old man, named in this report as John Doe, contains the accusation.Doe worked as a teacher and athletic director for a school in the diocese, but a school spokesperson said Jan. 9 that he no longer worked there.

Doe sent the letter to Dewane and the Rev. John Ludden.

Doe wrote that he has known Joseph for more than 15 years and that they met while Joseph was a deacon serving in Port Charlotte.

Doe said he was a member of a youth group that Joseph established in the area's Haitian community, and that the priest sometimes "invited males from the youth group to spend the night with him at his rectory or designated sleep area after he became a priest."

The letter continued, "The male youth felt very comfortable with this because of the trust factor that was there. Father Joseph was later transferred to St. Francis Xavier in Fort Myers to serve as a priest there."

Doe, who did not return an Islander call, claimed the sexual misconduct took place while Joseph was in Fort Myers. He said he was invited "for a sleep over at the rectory" and "invited to go alone."

"I was asked to sleep in the same bed by Father Joseph. I woke up from a deep sleep and felt Father Joseph touching my private parts. He was poking and touching my penis. When I realized what was happening, I was in shock and disbelief. I immediately closed my eyes, pretended [to] be asleep and said nothing. Father Joseph stopped probably realizing that I woke up."

Joseph said the incident — and the sleep overs —never took place.

"Never," he said.

He said he knows Doe, mentored him as a young man, and that his family and Doe's family are close, but that the accusation is false.

"I helped him out in the past," Joseph said. "He was a troubled kid.… I met [Doe] a few months before I was ordained."

Doe wrote that years passed and he did not report the incident because "I was too scared, embarrassed and felt shameful."

Victims of child sexual abuse have such feelings as adults and delay in making allegations, according to David Clohessy of The Survivors Network of Those Abused by Priests.

"It usually takes years — decades — for victims to realize they've been hurt, the harm is severe and ongoing and they have, in relatively few cases, a chance to take legal action and protect others," Clohessy said.

"A majority of victims, as kids, cope with the trauma by minimizing it. 'Well, it didn't hurt that much,' 'It only happened a few times,' 'At least he wasn't violent.' As kids, we simply cannot know how a sexual violation will impact us later in life," Clohessy continued.

"And as adults, it takes years of pain and failure and sometimes therapy until we understand that the sexual assaults we suffered as kids contributes to alcoholism, depression, self-mutilation, isolation, eating disorders."

Doe said he kept the secret to protect relatives, especially his mother. He wrote that he told his father and that eventually his mother too was told.

"She knows now and wants me to deal with this situation. I have been advised to write you this letter and deal with this abuse appropriately," Doe wrote.

He concluded his letter writing, "I have no faith in anything and I am very frustrated with the way in which I have been hurt in the past by Father Joseph. I feel I want to stop this happening again. I feel very angry about this and don't know what I would do if I had to face him."

Innocence claimed

Joseph said he cried when he learned of the allegation.

Fleck closely studied Doe's letter. The allegation lacked any details about the time of the alleged incident.

Doe's concluding comment — "I feel very angry about this and don't know what I would do if I had to face him" — also caught Fleck's attention.

The attorney said the statement sounds like Doe and Joseph never saw one another after the alleged incident.

"This person and has family are extremely close to Father Ron's family," Fleck said. "They've known each other all these years. This person, Father Ron has helped out all these years.… When this person was allegedly kicked out of college, Father Ron was the one to go get him."

Joseph said he saw Doe as recently as May 2008, when Joseph took flowers to Doe's mother. Joseph and Doe talked, joked and shook hands before the priest left the mother's home.

Fleck and Joseph also have studied closely an Aug. 26 letter from the Very Rev. Edward D. Moretti, vicar general with the diocese.

Moretti's letter informed Joseph of the allegation and notified him that he was not to say Mass or administer sacraments, not to wear clerical garb, not to reside in a location owned by the diocese and not to have any contact with the accuser or "others who may come forward with additional accusations."

Moretti, misspelling the accuser's name, wrote that Doe "alleges that in the late 1990s, while he was a freshman in high school, you fondled his penis."

Doe made no mention in his letter of his age at the time of the alleged incident; Joseph said Doe was 16 when they met.

"They claim he was a freshman in high school," Fleck said. "But in his letter, he never made that allegation. That is something that is very telling.… That leads one to believe that these accusations were pre-planned between the church and" the accuser.

Fleck said statements in Doe's and Moretti's letters "fly in the face of truthfulness."

The investigation

After informing Joseph of the allegation in late August, the diocese wanted the priest to fly to a clinic, St. Luke Institute in Silver Springs, Md., for what the priest thought would be a consultation.

Joseph — who this past year has been dealing with a serious illness, an infection in his esophagus — hurriedly made arrangements to leave Bradenton for as long as three weeks. But when he arrived at Sarasota Bradenton International Airport at 6 a.m., he learned the diocese had canceled his ticket.

"I think it was the Lord telling me, 'Hey, don't go,'" Joseph said.

Unapologetic, the diocese then asked Joseph to leave for the center on Sept. 6.

That trip, however, never took place.

Joseph had learned something about St. Luke Institute — the Catholic church sends clergy to there for treatment. Joseph said he learned that when patients arrive, they are given labels to wear on their chest, tags such as "child abuser."

"Heard of the scarlet letter?" Fleck asked.

Fleck, in a Sept. 4 letter, notified the diocese that Joseph would not be "participating in any psychological testing and/or psychological treatment."

"The allegations against Reverend Ronald Joseph are utterly false and without factual basis. The Reverend Ronald Joseph adamantly denies the allegations," Fleck wrote.

Fleck said there is no valid scientific testing to determine if a person committed sexual misconduct and that psychological testing can be construed to indicate anything.

The diocese, however, has continued to pressure Joseph to undergo an evaluation, as well as sign over his rights to evaluation results to the church.

Joseph expressed feeling conflicted over following the orders of the church and the wishes of his shepherds, and the advice of his attorney and his understanding of his rights.

"I will own my evaluation," Joseph said. "I will not sign over my rights. No. Not in America."

In an attempt to assist in the investigation, Joseph offered to submit to a polygraph examination, which to date the church has not requested.

On Sept. 29, a review board met at the Catholic Center in Venice over the allegation. The board separately heard from Joseph and Doe, but Fleck said attorneys were not permitted to comment.

A Sept. 18, 2008, letter from diocese attorney Frederick A Higham Jr. notified Fleck and Joseph of the board meeting. "The review board meeting is not a formal administrative proceeding.… It is a confidential process and we ask that all parties maintain and respect that confidentiality."

On Sept. 30, the day after the board meeting, Higham wrote to Fleck, "The review board has requested additional investigation be done prior to reaching a recommendation. I anticipate that will be concluded and presented to the review board within the next three weeks. I will inform you of the recommendation when I receive it."

Fleck, on Jan. 8, said the Sept. 30 letter was the last word to him from the diocese's attorney.

"They said it was going to be done in three weeks and we are still waiting to hear the results," Fleck said.

While Joseph periodically received communications from the diocese, including conversations with the bishop, nothing happened with the investigation until Dewane released his letter Dec. 27.

Fleck said the diocese has violated its policy in its handling of the allegation.

A provision posted on the diocese Web site says when an allegation is made, a preliminary investigation will be conducted "promptly and objectively" and that "during the investigation the accused enjoys the presumption of innocence, and all appropriate steps shall be taken to protect his reputation."

Fleck said the diocese has neither been prompt nor objective, and that it failed to protect Joseph's reputation.

"This process is supposed to be confidential," Fleck said. "This was supposed to remain confidential within the church itself.… It was in all the news media.… For whatever reason, the church decided to release that information."

Church policy also states that when an accusation is found to be false, the diocese "shall use whatever means … to repair the damage done to the reputation of the diocesan personnel and to the church in general."

Joseph said he could not imagine how wrongs can be righted and his reputation repaired: "How can it be? When someone stops me in Sam's and says, 'You are the one.'"

The priest

Joseph grew up in Haiti, where he said he learned that Catholic clergy give a voice to the voiceless.

He was inspired to become a priest at a young age.

"I always wanted to help the people who were suffering and that's how I discovered I really wanted to be a priest," Joseph said.

Joseph's ties to Haiti have remained strong. "I would go to Haiti no less than six times a year," he said. "I would spend my vacation in Haiti working."

Joseph was ordained as a priest when he was 29.

"From 18 to 29, all I knew was studying to become a priest," he said.

Joseph said he became a priest to give, and that the priesthood gave back to him an opportunity to meet people, to share experiences, to help and to follow his faith.

Since late August, when he learned of the allegation, Joseph said that in addition to dealing with his illness, he has suffered many lows, bouts of depression that left him wanting to die.

After meetings at the diocese, Joseph said, "I would wish my life would end right there."

One of the lowest points came the day before Thanksgiving, after a meeting in Venice.

"I felt so low after I met with the bishop that I wished a truck would run me over," Joseph said.

On the drive back from Venice, Joseph stopped to see his attorney, whom he has known for about five years.

Fleck encouraged the priest to devote himself to a good deed on Thanksgiving, to perhaps help serve dinner at a homeless shelter.

But the attorney said that when Joseph left his office, he worried. "I thought he might be on his way to the Sunshine Skyway Bridge."

The believers

"About the worst thing you can accuse somebody of being is a child molester," Fleck said. "The hurt somebody feels.… One has no way to feel what that is like."

Public opinion polls support his statement.

And, in cases involving allegations against Catholic priests, parties are quick to take sides.

National groups, such as SNAP, exist to support accusers, and to support the accused, such as Justice for Priests and Deacons.

Days after the flurry of news reports on the allegation, a man stopped Joseph in a local store and said, "I've seen you somewhere."

The priest, dressed in street clothes, said he suggested maybe they had seen one another in church, and the man replied, "Oh, you are the priest who molested that boy."

But Joseph also has found he has ardent supporters to maintain his innocence and pray for him.

"I have friends, they will call me and encourage me," he said. "That's what keeps me going. I have the support of other people, their goodness."

He has received letters from some character witnesses, including people who participated in the youth group with Doe.

A petition drive is under way on Anna Maria Island for people to sign a statement calling for a public forum and proclaiming, "We the undersigned fully support Father Jean Ronald Joseph. We totally deny the false accusations against him from 15 years ago."

Another petition drive is taking place in Port Charlotte, where Joseph once worked for the church.

"Father Ron was ordained a deacon in 1993," Fleck said. "In over 15 years of being a priest, never once has another allegation been made against Father Ron."

He added that since the diocese announcement, "Not one youth has come forward to make another allegation against Father Ron. Not one."

Asked what motive would exist for a false accusation, Fleck and Joseph said they could speculate, but that they too are confused by the circumstances.

"What reason they have, we don't know," Fleck said. "I don't know who has the real motive."

"I wish somebody could tell me why. I have no idea," Joseph said.

Editor's note: The newspaper's withholding of the accuser's name is in keeping with a journalism tradition to not name a possible victim of sexual abuse. This consideration should not be seen as an indicator of guilt or innocence but as an adherence to the Society of Professional Journalists Code of Ethics.

19.01.2009 Forum planned, petition circulated

A petition drive on behalf of the Rev. Jean Ronald Joseph is under way on Anna Maria Island for people to sign a statement calling for a public forum and proclaiming, "We the undersigned fully support Father Jean Ronald Joseph. We totally deny the false accusations against him from 15 years ago."

For more information about the petition, call Barbara Sato at 941-778-7200.

Also, a forum with Joseph and his attorney will take place at 1:30 p.m. Wednesday, Jan. 21, at Holmes Beach City Hall, 5801 Marina Drive.