Seattle U. President Denies Claims That He Knew of Abuse
Seattle University President Stephen Sundborg Refuted Allegations That in the 1990s, As Head of the Jesuit Order in the Northwest, He Knew about at Least One Sexually-Abusive Priest but Did Nothing

By Nick Perry and Janet I. Tu
Seattle Times
January 15, 2009

http://seattletimes.nwsource.com/html/localnews/2008630236_seattleu15m.html

Seattle University President Stephen Sundborg went on the offensive Wednesday against the lawyers who this week named him as a defendant in a civil suit — saying the complaint "represents an unprincipled and irresponsible attack on my reputation."

In a statement, Sundborg disputed the allegations that in the 1990s, as head of the Jesuit order in the Northwest, he knew about at least one sexually abusive priest but did nothing: "I firmly deny them," Sundborg said of the claims. "I want the victims and the entire community to know that."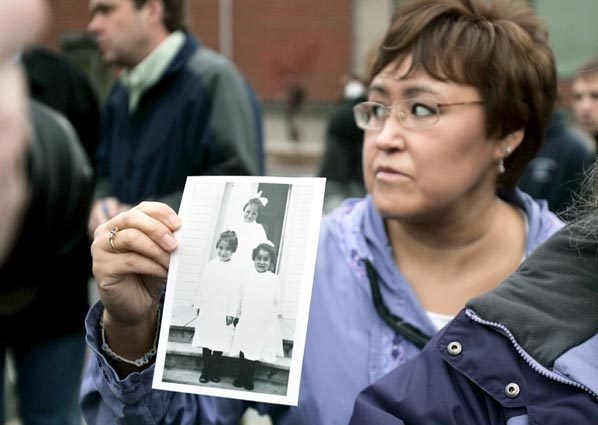 Elsie Boudreau, a past victim of abuse, holds the picture of an abuse victim at Seattle University. Boudreau is acting as a liaison for the victims.
Photo by Courtney Blethen


But just how much damage the lawsuit might do to the decade long presidency of Sundborg, who has been praised for his steady leadership, remains to be seen. So, too, does the question of whether the private university might face financial claims in this or future legal action.

The lawsuit claims that a number of remote Alaskan villages — often accessible only by plane, boat or dog team — served as a "dumping ground" for abusive priests who knew the Alaska Natives were unlikely to turn them in.

In the suit, 43 people who claim they were sexually abused as children are seeking a minimum $4.3 million compensation.

The suit claims that Sundborg, as the head, or provincial, of the Jesuit order in the Northwest, had access to "hell files" which contained secret, damning information about certain priests.

Wednesday's developments began on a sidewalk in front of Seattle U. when more than 50 people huddled at a news conference to hear the accounts of four alleged victims of Jesuit abuse.

One of the victims, Rena Abouchuk Firey, is a plaintiff in the case. She addressed a tearful speech to a Franciscan monk who is named as a defendant in the lawsuit. The monk, who worked under the Jesuits, did not attend the conference.

"You walked into my young life and so many others when we were small, innocent children, just six-, seven-, eight-year-old children, and took it all away from us," Firey said. "Touching us in ways that I will never forget, you made us touch you, you did so many evil things in St. Michael's Church, Stebbins Church, and lived your life like you did nothing wrong."

Firey, who is now living in Kelso, said several of her cousins had committed suicide as a result of similar abuse, and that she and her brother continued to struggle on the "long and difficult path" to live a normal life.

Plaintiffs' attorney Ken Roosa said Sundborg, in his role as the order's provincial, had files and information on the accused priest, the Rev. Henry Hargreaves. Roosa said Sundborg showed "willful ignorance" by allowing Hargreaves to remain in the ministry. Hargreaves declined to comment Wednesday.

While denying any personal wrongdoing, Sundborg said in his statement that his "commitment to justice and reconciliation for all victims remains steadfast. The sexual abuse by Catholic priests is one of the most shameful episodes in the history of our church. I will continue to work toward the goal of bringing healing to all victims."

Over the next several weeks, Roosa said, more lawsuits will be filed on behalf of 60 more Alaska Natives molested years ago by Jesuits or those supervised by Jesuits. "It was a pedophile's paradise," he said.

Roosa didn't rule out going after the assets of Seattle University, an independent nonprofit, in this or future lawsuits, even though the university was not specifically named in the suit. Roosa said any financial ruling against the Jesuit order — which was named in the suit — might extend to Seattle U. if assets such as property were transferred from the order to the university at below market value.

Seattle U. certainly presents an attractive financial target, with net assets listed at $373 million in its most recently available federal tax filing.

On the other hand, the Jesuit's Northwest order has been considering bankruptcy. Whether the latest round of lawsuits will push it to file remained unclear Wednesday.

In the past year the order — the Society of Jesus, Oregon Province — has agreed to several large settlements, including $4.8 million to 16 Native Americans abused years ago at a boarding school near Omak, and $50 million to 110 Alaska Natives abused in remote villages in Alaska. Most of the money from both of those settlements is covered by insurance.

Provincial leaders have said for more than a year that bankruptcy was one of several options. On Wednesday, the Very Rev. Patrick Lee, provincial of the Oregon Province, would say only that "the province is reviewing all options."

Roosa said that there is no intention to seek money personally from Sundborg, who has taken a vow of poverty. Rather, he said, the idea of naming him in the suit is to show his culpability.

Contact: Nick Perry: 206-515-5639 or nperry@seattletimes.com; Janet I. Tu: 206-464-2272 or jtu@seattletimes.com