Lapwai Women: the Pain Is Still There

By Matt Loveless
KLEW
January 20, 2009

http://www.klewtv.com/news/37943489.html

LAPWAI - A lawsuit against a Lapwai woman's former church gains support, and a new defendant.

It's a pain that's three decades old, a case that's three month's old, and now three are standing up for the fight.

In October, Mia Sonneck and her Coeur d'Alene attorney Lee James filed a lawsuit against the Society of Jesus, Oregon Province, the legal entity that oversees Lapwai's Catholic Church. In the suit, Sonneck said she was violently sexually abused by Father A.J. Ferretti, also known as "Father Freddy," when she was 7-years-old.

James chose to dismiss the case without prejudice two weeks ago, after the church removed the case to federal court, since it was between entities from different states. James re-filed late Tuesday morning, now also targeting the Roman Catholic Diocese of Boise.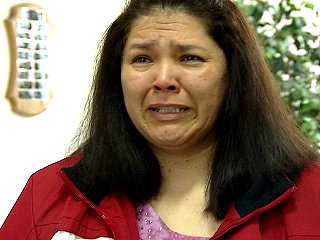 Alberta Sena cries as she explains what she says was abuse at the hands of a former Lapwai priest when she was a little girl.



"The suit today is to make both institutions accountable for the harm that was caused by Father Freddy, and the sexual abuse of these women as children," said James.

And Mia Sonneck is no longer alone in pursuing the matter. Two more women, also in their early forties, said they remember Father Freddy, and said Mia's story is a lot like theirs.

"When Mia came forward, it flooded back, and I knew I had to step forward," said Alberta Sena. "It wasn't even a question."

"On one hand it was anger, and a lot of emotion - just overwhelming," said Dorothea Skalicky. "On the other hand it was really relieving."

Sena and Skalicky were also both about 7, when they say Father Freddy sexually abused them. In 2007, the statute of limitations for child abuse victims was changed so alleged victims could file a suit long after the abuse takes place.

"This lawsuit and lawsuits like this are a way for otherwise powerless citizens to seek justice," said James.

Ferretti died in 1982, but the three claim the painful memories haven't stopped surfacing and hope more alleged victims will speak out.

"You need to be empowered," said Skalicky. "This is not right. And you need to stand up for what's happened."

"This was a man that was supposed to be here for me," said Sena, tears in her eyes. "I should have been able to go to him with my problems, and I wasn't able to."

The Society of Jesus, Oregon Province, issued a statement in response to the original lawsuit. Provincial Reverend Patrick Lee said "The Oregon Province takes these allegations seriously and will investigate them to the fullest extent."

The three women pursuing the lawsuit will seek a minimum of $10,000 in damages.