Allegations of Sexual Abuse Leveled against Priest

WBNS
January 20, 2009

http://www.10tv.com/live/content/local/stories/2009/01/20/story_priest.html?sid=102

NEWARK, Ohio — The Catholic Diocese of Columbus has removed a priest from the ministry for allegedly sexually abusing a minor more than 23 years ago.

Father Frederick Loyd allegedly sexually assaulted a minor in 1985 while serving as associate pastor at Saint Francis de Sales in Newark, 10TV's Andy Hirsch reported.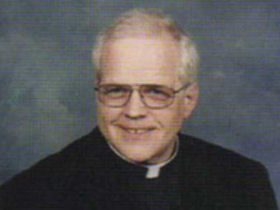 Father Frederick Loyd



According to the Catholic Diocese of Columbus, it was not until November when they learned about the allegations. They reported the claim to Newark police but investigators said that there is nothing they can do because the statute of limitations ran out on any possible charges.

In a written statement, the Diocese said that its review board concluded "that the allegation is credible" but said "credibility is not proof of guilt in this case."

Loyd has not been assigned a position since 2004 when he was an associate pastor at Saint Joseph Cathedral. He worked at several places prior to that, including teaching at schools including Bishop Hartley High School, but has been retired since 2006, according to the Diocese.

He also served as a chaplain at the former Doctors Hospital North, Mount Carmel East Hospital and Nationwide Children's Hospital, Hirsch reported.

10TV News attempted to contact Loyd at his last known address but workers said he moved out two months ago. A phone call was place to Loyd's listed number but a woman said he was not home and quickly hung up.

Stay with 10TV News and 10TV.com for additional information.