Bishop Asks Priest to Step down

The Times
January 23, 2009

http://mywebtimes.com/archives/ottawa/display.php?id=373904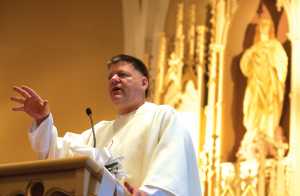 The Rev. Jerry Pilon delivers a sermon during a 2006 Mass at St. Mary's Catholic Church in Moline.
Photo by Mike Itchue


MOLINE — The Rev. Jerry Pilon, pastor of St. Mary Church, has been asked to step down from public ministry by Bishop Daniel R. Jenky of the Catholic Diocese of Peoria.

According to a press release issued Thursday afternoon by the Diocese of Peoria, allegations of sexual misconduct with a minor were made against Pilon "dating back to nearly 12 years ago."

The release stated the alleged abuse did not take place in the Diocese of Peoria and the alleged victim was "not a minor with whom (Pilon) had served in any ministerial capacity."

The release stated Pilon has been asked "not to function as a Catholic priest in any public capacity, to no longer wear clerical garb or the Roman collar, and to refrain from using the title 'Reverend' or 'Father.'

According to the release, Pilon has denied the allegations and has claimed he is innocent.

In 1991 and 1992, Pilon served at Holy Cross Church in Mendota and at Saints Peter and Paul Church in Peterstown, southwwest of Mendota.