SJC to Hear Appeal by Ex-Priest in Abuse Case
Lawyers Challenge Accuser's Memory

By Shelley Murphy
Boston Globe
January 27, 2009

http://www.boston.com/news/local/massachusetts/articles/2009/01/27/sjc_to_hear_appeal_by_ex_priest_in_abuse_case/

Nearly four years after defrocked priest Paul R. Shanley was convicted of repeatedly raping and fondling a young boy while working at a Newton parish in the 1980s, the state's highest court agreed yesterday to hear an appeal that challenges the reliability of the victim's "repressed memories."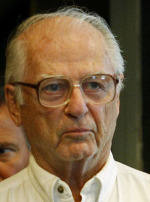 SEEKS APPEAL Defrocked priest Paul R. Shanley was sentenced to 12 to 15 years in prison after being convicted of rape and assault



The Supreme Judicial Court granted a petition from Shanley's lawyer to consider a direct appeal of his motion for a new trial, which had been rejected by the trial judge in November. No date has been set for the hearing.

"This case involves a very difficult issue, which concerns repressed memory and I think that is at the center of why they have taken it," said Robert F. Shaw Jr., a Cambridge lawyer who represents Shanley on appeal and has argued that repressed memory is a "hypothesized phenomenon that has been rejected by the relevant scientific community."

In a phone interview yesterday, Shaw said, "What we're looking for in this case is a very thorough and honest analysis of the issues."

But in a statement issued yesterday, Middlesex District Attorney Gerard T. Leone Jr. said, "The concept of recovered memory by victims of abuse has been accepted by both the scientific and legal communities, by the jury who convicted Mr. Shanley, and by the judge who denied the motion for new trial."

Shanley was sentenced to 12 to 15 years in prison in February 2005 after a jury convicted him of two counts of raping a child and two counts of indecent assault and battery on a child. He will be eligible for parole in 2013.

The alleged victim accused Shanley of pulling him out of Sunday school when he was between 6 and 11 years old and molesting him in the pews, rectory, confessional, and boys' room of St. Jean Church in Newton. The former altar boy testified that he did not remember the abuse until 2002, when he learned about a Globe story outlining accusations that other men, including a former Sunday school classmate, had made against Shanley.

Three accusers were part of the initial case, but were dropped as it went to trial. The statute of limitations prevented prosecutors from bringing charges stemming from accusations by additional alleged victims.

At trial, Shanley's former lawyer, Frank Mondano, argued that the alleged victim's recollections were "false memories" suggested by friends, therapists, and personal injury lawyers, who contacted him after he said he recalled the abuse. He called a specialist who testified that scientific experiments have proven that people can be manipulated into remembering things that never happened.

But prosecutors argued that the memories were genuine and cited specialists who say trauma victims often forget details, and that recovered memories are real.

In November, Superior Court Judge Stephen Neel rejected Shaw's assertion that Shanley was deprived of an adequate defense. He acknowledged the controversy surrounding repressed memories, but concluded that "the theory of repressed memory is generally accepted by the relevant scientific community of mental health professionals."

Shelley Murphy can be reached at shmurphy@globe.com.