Corona Renames Street That Honored Accused Priest

By David Kelly
Los Angeles Times
January 29, 2009

http://www.latimes.com/news/local/la-me-street30-2009jan30,0,456378.story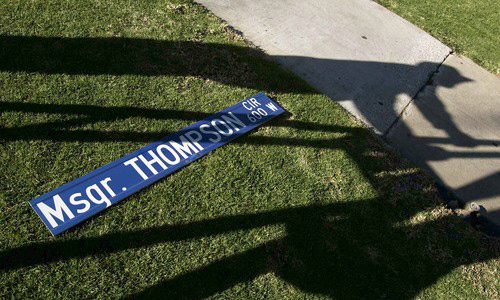 Workers in Corona replace a sign for Msgr. Thompson Circle. Although Thompson was never proved to be a child molester, he was among those priests with "credible allegations" against them named in a settlement, officials say.



At the urging of the Diocese of San Bernardino and St. Edward Catholic church, the City Council changes the name of a street named for Msgr. Matthew J. Thompson, who was named in an abuse-victim settl

Long after allegations first surfaced that he had molested children, Msgr. Matthew J. Thompson's name graced a street sign near St. Edward Catholic Church and school in Corona.

For those who say they were his victims, the sign's presence for more than 30 years was both an insult and a glaring act of insensitivity.

This week, they won a small but significant victory when the city ordered a public works crew to remove the sign. In minutes, Msgr. Thompson Circle became Saint Edwards Circle.

"It's more important than any monetary reward," said Avery Ensley Jr., 62, who was the first to make allegations against Thompson and who pushed for years to have the sign removed. "At least the truth is out now, and the church is no longer continuing this facade."

The Corona City Council had the sign removed at the urging of the Diocese of San Bernardino and St. Edward, where Thompson, who died in 1976, spent his career.



map



"This is reflective of the commitment we have for the healing and reconciliation of victims of sexual abuse," said John Andrews, spokesman for the diocese. "We had contact with the alleged victim and he obviously felt it was important that this be addressed. It seemed like something we wanted to do."

Although Thompson was never proved to be a child molester, Andrews said, he was among those priests with "credible allegations" against them named in a 2007 settlement in which the church paid abuse victims $200 million.

Calls to St. Edward were not returned.

Ensley, who was part of the settlement, first noticed the street sign in 2002 when he was going to talk to a priest about his case.

"I said, 'Oh, my God,' and the first thing I did was tell him I wanted this thing taken down," he said. "But for the church to say they were removing this sign before they had to would damage their chances of getting out of the lawsuit."

Ensley renewed his efforts after the settlement and found less resistance. He asked the diocese to remove the sign and it agreed, sending a letter to the City Council, which approved the change.

"I got a call yesterday from two other people who told me they were also abused by Thompson," he said. "I'm sure there are a lot more out there."

One of the callers was Bob Tomes, 62, of Riverside, who attended St. Edward Catholic School and thought for years he was the only one molested by the priest.

"It totally screwed up my life," he said. "That sign bothered me all these years, and it bothers me to this day. A lot of things are starting to come out now, and I am realizing it wasn't my fault."

Ensley said he was in the fourth grade when Thompson started abusing him. The priest would pull him out of class and take him to the basement or the rectory, where he would molest and rape him, he said. Ensley said he could smell Thompson coming because of the cigars the priest smoked.

"My friend would break three or four pencil points, then run to the back of the room and hide in the closet and say he was sharpening pencils," he said. "He hoped Thompson wouldn't see him."

The case of the Corona sign is not unique. In recent years, as the church has been rocked by sexual abuse scandals, many communities have confronted the thorny problem of roads, bridges and buildings named after disgraced priests.

"This is an ongoing issue all over the country," said David Clohessy, national director of the Survivors Network of Those Abused by Priests. "Most predator priests are extremely charismatic and popular. They have scholarships, buildings and other things named in their honor. It rubs salt into the still-fresh wounds of victims and deters other victims from reporting clergy sex crimes."

In Augusta, Maine, victims recently persuaded the city to change the name of the Father John Curran Bridge after the priest was accused of molesting children. Two college scholarships in his name were also renamed.

In Oak Ridge, Tenn., activists fought to remove Bishop Anthony J. O'Connell's name from a meeting hall and gymnasium after he faced accusations of molestation and was sent to a monastery.

"His name did come down, but his picture still hangs in schools and churches across the diocese," said Susan Vance, a former nun and survivors network leader in Tennessee.

Corona officials said renaming streets isn't common. But because Msgr. Thomas Circle was a small cul-de-sac occupied by the church and school, it wasn't difficult. "We first look at who is affected by it and talk to everyone involved," said Kip Field, acting public works director. "In this case, it caused no trouble."

For Ensley, a former police investigator who no longer lives in the area, the change is welcome if late.

"The gesture the church made is important, but I wish they had done it when these allegations first came out," he said. "I have forgiven Thompson, but I'll never step foot in a Catholic church again."

Contact: david.kelly@latimes.com