Priest Pleads Guilty to Sexual Abuse; Is Sentenced to Prison

By Tim Funk and Gary Wright
Charlotte Observer
February 2, 2009

http://www.charlotteobserver.com/597/story/511903.html

A Catholic priest assigned to two Charlotte parishes in the late 1990s pleaded guilty Monday to sexually abusing a 15-year-old altar boy a decade ago and was sentenced to at least seven years and eight months in prison.

The Rev. Robert Yurgel, 44, chose not to make a statement before being sentenced by Superior Court Judge Bob Bell.

But his victim, now 24, read a statement addressed to Yurgel, saying the priest had robbed him of his childhood, and that he continued to have flashbacks and nightmares.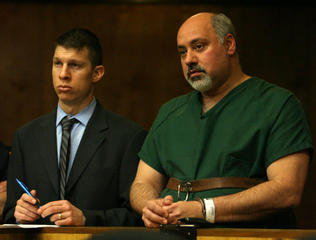 4/4/08 The Rev. Robert Yurgel (rt) appears in a state Superior Court hearing in Passaic, NJ, with public defender Jon Iannaccone at his extradition hearing on Friday, April 4. photo by Leslie Barbaro/The Herald New (NJ)



The judge also heard from the victim's mother, who tearfully said that a "trusted leader of the Catholic Church" had caused her son shame and despair.

"You will be in prison and away from not only our children and loved ones but all children of the world," she said to Yurgel, who made no eye contact with the victim or his mother.

While in Charlotte, Yurgel had been parochial vicar and youth director at St. Matthew Catholic Church in Ballantyne, and later at Our Lady of Consolation on Statesville Avenue.

The Catholic Diocese of Charlotte, which has been named in a civil suit along with Yurgel and his New Jersey-based Franciscan Order, released a statement Monday saying diocesan officials knew nothing about accusations against Yurgel until he was arrested in April 2008.

"During (Father) Yurgel's time in Charlotte, the diocese was not made aware of any complaints concerning his conduct with minors," the statement read.

Yurgel left Charlotte in October 1999, when he was reassigned to a ministry in New Jersey