Allegation of Abuse Follows Brother Here

Express-News
February 5, 2009

http://www.mysanantonio.com/news/local_news/Accused_of_child_sex_abuser_ religious_teacher_moves_to_SA.html?loc=interstitialskip

Brother Richard Suttle, a member of a California-based religious order who is accused of child molestation, has moved to San Antonio, igniting a campaign by a victims' advocacy group demanding he be stripped of his religious credentials and forced to leave.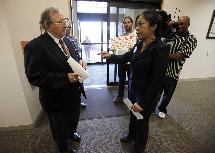 Barbara Garcia-Boehland of Survivors Network of those Abused by Priests (SNAP) has a heated exchange with Deacon Pat Rodgers of the Archdiocese of San Antonio regarding Bro. Richard Suttle.
Photo by Kin Man Hui


The local director of SNAP, or Survivors Network of those Abused by Priests, and her husband protested Suttle's relocation Thursday in front of the Archdiocese of San Antonio's headquarters.

Suttle, a member of the Claretian Missionaries of the U.S. Western Province, denies the allegation of abuse, and his order says he came here in July from Arizona to study for a doctorate. He lives at a residency along with five other Claretians on the campus of Immaculate Heart of Mary Catholic Church, 617 S. Santa Rosa St., downtown.

The allegation was made public in December when the Diocese of Phoenix issued a statement that a "credible" claim of sex abuse had been made against Suttle. It also said this conclusion didn't mean he was either innocent or guilty, but that the claim was "possible."

The abuse is alleged to have taken place during the 1982-83 school year at Sacred Heart Parish School in Prescott, Ariz., where Suttle was a teacher, coach and principal.

SNAP Director Barbara Garcia-Boehland said she believes Suttle's emergence here reflects a strategy to conceal the allegation and questions why the archdiocese and the order did not make public his whereabouts sooner.

"Obviously, they are not sticking with their own policies and doing background checks," she said. "We need this guy out of the city. He's a danger."

The order's provincial superior, Father Richard DeTore, defended Suttle in a phone interview Thursday, citing the public notifications made in Arizona to the police and Catholic communities and the restrictions placed on him while living here. He added that Suttle has not been charged with a civil or criminal offense.

DeTore said Suttle came to San Antonio in July exclusively to study for a doctorate — three months before the allegation was made. At that point, DeTore said he put Suttle on a "restrictive safety plan" that keeps him away from children and young people by banning him from all ministry.

He is also required to sign in and out of the residence and declare where he's headed and for how long.

DeTore said there was a brief period when Suttle was helping to distribute Communion as a Eucharistic minister at Immaculate Heart parish, which is run by the Claretian community. DeTore said that once he learned of the situation, he put a stop to it.

"We are currently putting together an investigation for ourselves and allowing Richard, who claims he is innocent of these charges, to bring forward a defense against these charges," DeTore said.

Deacon Pat Rodgers, archdiocesan spokesman, said the religious order is primarily responsible for handling the matter since Suttle is living with them and he has no ministry assignment for the archdiocese to manage. And so far, Rodgers said, the order's actions have been appropriate.

"We have a long history with the Claretians, and there is no reason to think the safety of the parish is threatened," he said.

Garcia-Boehland of the victim's group demanded that San Antonio Auxiliary Bishop Oscar Cantú meet with her in the archdiocesan lobby since Archbishop José Gomez was out of town. She wanted to hand-deliver a letter of concern. Rodgers assured her he'd give the letter to Cantú, but not before a tense exchange filmed by TV news cameras and watched by a couple of security guards.

Garcia-Boehland eventually left the letter at the front desk after chiding Rodgers and the archdiocese.

"What are you waiting for?" she asked Rodgers. "For him to rape children here before doing anything?"