Pastor: No Threats before Church Was Vandalized

Chicago Breaking News
February 6, 2009

http://www.chicagobreakingnews.com/2009/02/rape-message-left-at-church-arson-fire.html

When firefighters arrived at a Bridgeport Catholic church early today, they found a message of rage written in red tape across its front doors: "Rape" and "God is a lie."

Words on adjacent doors indicated that the rape happened here, at this church.

Police removed the tape at about 8:30 a.m. as evidence. And Rev. John Parker, who has been at the church for seven years, said the vandalism and suspected arson were a first for the church.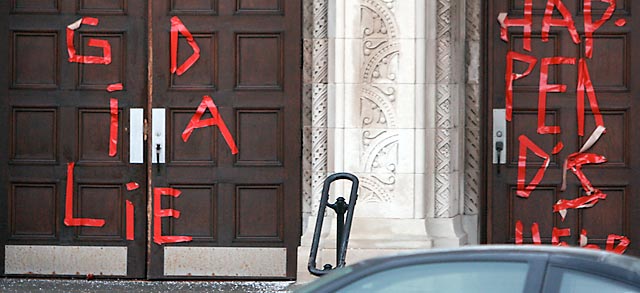 All Saints St. Anthony's Church, where on the doors in tape was written "God is a lie" and "Rape Happend's Hear" in addition to a fire set on the north side of the church.
Photo by Michael Tercha


"We didn't receive any warnings or threats or anything of that nature," said Parker as he sat in a church office.

Parker, who was sleeping in a building next door to the church, said he was awakened by a burglar alarm and, when he walked over, firefighters were already there.

Investigators combed through evidence Friday afternoon of the suspected arson that shattered the stained glass of All Saints St. Anthony's Church, 518 W. 28th Pl. The fire was reported around 3 a.m. outside, near some cellular phone equipment but was put out within about 15 minutes, officials said.

Fire officials handed the investigation over to Chicago Police. A police department spokesman said Friday afternoon that the cause of the fire appeared to be suspicious in nature.

Police said they had no information about a recent rape at the church.

It was unclear Friday whether police were looking into a connection between the incident and the priest sex abuse scandal that has plagued the Catholic Church in recent years.

A source confirmed to the Tribune that the Archdiocese of Chicago is talking with a Minnesota law firm about allegations that a former priest, who has been named in other sex abuse law suits, molested an adolescent boy in the rectory of the Bridgeport church decades ago.

The archdiocese has spoken to authorities about the abuse case, the source said.

Police declined to comment Friday.