Priest Faces New Molestation Accusation
Denis Lyons, Who Has Been Removed from Ministry, Is Being Sued. Police Also Are Investigating.

By Rachanee Srisavasdi
Orange County Register
February 10, 2009

http://www.ocregister.com/articles/lyons-kirrer-abuse-2305197-orange-diocese

A priest who escaped prosecution on charges that he molested a boy more than 30 years ago faces new allegations that he sexually abused a 3rd grader in Costa Mesa during the mid-1990s.

Denis Lyons – who has cost the Diocese of Orange more than $4 million in settlements of other sex abuse claims – is a defendant in a lawsuit over the alleged assault of Jonathan Kirrer at St. John the Baptist School in 1994 and 1995.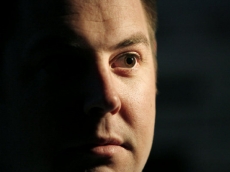 Alleged victim Jon Kirrer is photographed at his lawyers' office in Venice on Tuesday. Kirrer is pursuing a civil lawsuit alleging Denis Lyons, a priest who escaped prosecution, abused him at a Costa Mesa church.
Photo by Christina House




Lyons' other incidents

Denis Lyons, a priest has who cost the diocese more than $4 million in sex abuse settlements, is accused of molesting a Costa Mesa 3rd-grader in 1994 and 1995. Other incidents involving Lyons:

April 2003: Arrested on charges he molested a teenage boy in 1979 during counseling sessions at St. John the Baptist Church in Costa Mesa and during visits to the boy's home. The charges are later dropped.

April 2002: Placed on administrative leave from St. Edward Church in Dana Point after a man alleged that he was molested by the priest in 1979 at St. John the Baptist.

1994: Sent to a residential treatment center for eight months after the parents of two boys contact the diocese regarding inappropriate advances occurring around 1979, when the boys were 14 and 16. The diocese determined that he was not a pedophile and did not pose a risk to minors.

1993: Admits to inappropriate behavior toward two male adults who worked at St. John the Baptist Church, and is placed in counseling. Bishop Tod D. Brown later sends a letter to St. Edward parishioners saying the suspect behavior stopped.

–- Michael Doss, Register researcher


Police and prosecutors also are examining the case.

Kirrer claims that Lyons abused him four times – twice in the parish rectory and twice in the church's sacristy. He said he moved out of state soon after the alleged incident, and did not tell anyone at the time.

Lyons, named as defendant in Kirrer's lawsuit, declined to answer most questions during a deposition in the case earlier this month, citing his Fifth Amendment protection against self-incrimination. His three lawyers did not return calls seeking comment Tuesday, but in court papers filed in April, Lyons denied all allegations.

In a statement Tuesday, the Diocese of Orange said Lyons was "removed from ministry April 24, 2002, and has not returned to ministry or any official capacity in the Diocese of Orange."

"We intend to maintain the integrity of the judicial process and hope for a just and expedient conclusion to these proceedings," the diocese said.

New abuse allegations

Kirrer, unlike many plaintiffs in such lawsuits, has chosen to identify himself and speak publicly.

Kirrer, 24, graduated from Fountain Valley High School in 2004, and still lives in Fountain Valley.

Clergy-abuse cases made headlines in 2005, when the Diocese of Orange agreed to a record $100 million settlement with 90 alleged victims of sexual abuse.

Kirrer said he was too scared to come forward at the time.

"I didn't think anyone would believe me," he said, during an interview at the Los Angeles office of his lawyer, V. James DeSimone.

In October 2007, he said, he decided to tell his mother as well as a priest who is a family friend.

Earlier that year, Kirrer's mother, Carol Suzanne Kirrer, had settled her own sex abuse claim against the church. She and her sister alleged they were molested by a priest at Visitation Church in Los Angeles during the 1960s. Her lawsuit was settled for an unspecified amount as part of the mass $660 million settlement by the Archdiocese of Los Angeles, according to DeSimone.

Kirrer said he first reported the abuse to a diocese hot line, and was directed to counseling. After a few months of counseling, he said, he decided to retain the attorney used by his mother, DeSimone. He filed the lawsuit in March 2008.

Three months later, Kirrer went to Costa Mesa police.

"He needs to be locked up," Kirrer said of Lyons. "There's not just me, there's all the victims from before. It's like he's gotten a free pass."

Susan Kang Schroeder, a spokeswoman for the Orange County District Attorney's office, said prosecutors are investigating the case with police. She noted that county prosecutors pursued molestation charges against Lyons in 2003, but was forced to dismiss the case because of a U.S. Supreme Court ruling that said prosecutors couldn't indefinitely extend – or retroactively apply – the statute of limitation on sex abuse cases.

Generally, prosecutors can file criminal charges on incidents alleged to have occurred after 1988, she said.

"This involves an accusation of abuse of authority … we take these cases very seriously," Schroeder said.

Past allegations

Lyons has a history of abuse allegations in Orange County. In 1993, he admitted to inappropriate behavior with two adults in 1979, when he was pastor at St. John the Baptist. That admission prompted the diocese to place him in extensive counseling, and the suspect behavior stopped, Bishop Tod D. Brown said in a letter sent to parishioners at St. Edward Church in Dana Point in 2002, where Lyons was based at the time.

Lyons was placed on administrative leave that same year, and then was slapped with criminal charges in 2003. Orange County prosecutors accused Lyons of molesting a teenage boy for a three-year period beginning in 1978 at St. John the Baptist.

He was charged with four counts of oral copulation and one count of committing a lewd act upon a child. But those charges had to be dropped in June 2003, when the U.S. Supreme Court ruled that California can't prosecute people for sex crimes after the statute of limitations, generally three to six years, has expired.

Since 2001, the diocese has paid out more than $4 million to settle sex abuse claims regarding Lyons.

Lyons has attended every deposition in the case – including that of Kirrer, DeSimone said.

"The reason (Lyons) is a defendant is because he is a wrongdoer," the lawyer said. "So are the people in charge of the church who could have stopped this abuse. They need to be held accountable."

The lawsuit is scheduled for trial May 18 in Orange County Superior Court.

Contact the writer: 714-834-3773 or rsrisavasdi@ocregister.com