Priest Innocent of Sex Count, but Guilty of Endangerment

By Jessica Harding
Schenectady Gazette
February 19, 2009

http://www.dailygazette.com/news/2009/feb/19/0219_priest/

FONDA — A Montgomery County Court jury acquitted Catholic priest John W. Broderick of two felony abuse accounts on Wednesday but convicted him of one misdemeanor count of endangering the welfare of a child.

Broderick faces up to a year in county jail at his sentencing.

The verdict, returned about 3 p.m., was viewed as a victory by Broderick's family. His brother Michael said the family was pleased with the outcome.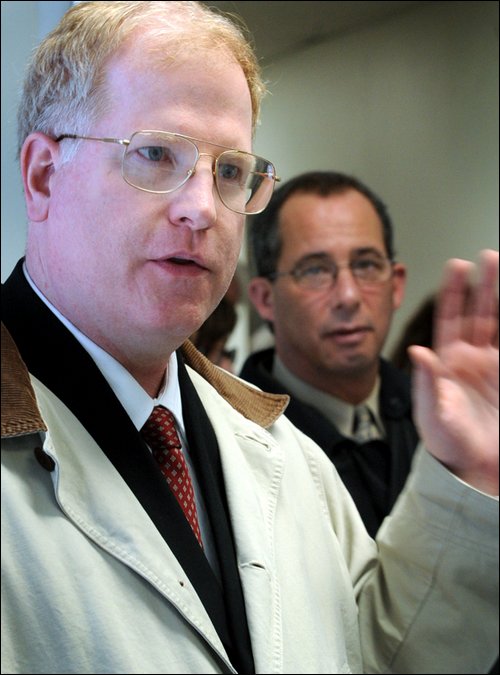 Rev. John Broderick, left, talks to reporters with his attorney, Mark Blum, after the verdict was read Wednesday.
Photo by Peter Barber


"The people of Montgomery County have treated us very well, we got a fair trial and the truth came out," Michael Broderick said.

He said it's unfair that priests have to continually protect themselves against claims of sexual abuse because of a few bad priests.

"Ninty-nine percent of them are wonderful good men just like my brother," he said.

John Broderick said he wanted to take his case to trial as a way of protecting his office. "I always felt this was not an attack on me, but on my office," he said.

Jurors deliberated about nine hours over two days and had testimony read back to them before reaching their verdict.

Broderick, of Broome County, was accused of sexual contact with three boys under the age of 11 over a period of time while he was acting as their mother's spiritual adviser.

From December 2006 to May 2007, Broderick spent one weekend a month with the family, who live in rural western Montgomery County. He conducted traditional Catholic rituals and celebrated traditional Masses for the family and several other families with similar values. In May 2007, Broderick stopped visiting the family because of a disagreement over a contract to form a "covenant" — a self-sustained church group.

Throughout the case, Broderick's attorney, Mark Blum, argued that the children, who testified on closed-circuit television, were led by their father to believe they had been sexually abused; the lawyer said the father was jealous of the relationship between Broderick and his wife.

Montgomery County District Attorney James "Jed" Conboy, however, argued that the children's testimony was not rehearsed.

Blum said he was thankful that the jury took a good look at the evidence.

After talking with the jury, Blum said he felt they got tied up on the issues surrounding the unconventional family.

"This is a wacky family and I think they had a hard time focusing on the issues," Blum said.

Blum said he wasn't sure if he would file an appeal regarding the misdemeanor charge. He said it would be up to his client.

After talking with the jury, Blum said one of the deciding factors in the verdict was the sloppy investigation. He said he hopes Montgomery County will look more closely at its investigators and employees in the Department of Social Services.

Conboy said the jurors were swayed by the inability of the children to determine the exact time frame the alleged events occurred. He also said the case was a hard one to prove.

"We don't normally try easy cases. If they are clear cut, there is a plea," he said.

Around 11:30 a.m., Broderick was offered a plea to one felony count instead of two, but declined.

"I figure I'd gone this far. If I was going to make a deal, I would have done so earlier and saved a lot of people a lot of heartache," he said.

Broderick, who had been nearly silent throughout the entire trial and did not take the stand, was jovial after the verdict was announced as he talked to reporters. He joked that if he did have to go to prison at least there would be a prison ministry.

"There are always souls to save," he said.

Broderick spent most of the past two days praying with a small gathering of followers outside the courtroom. He said he has been fortunate in the last 20 years as a priest to be surrounded by a lot of good people who were there to help him "over the bumps."

Broderick said he felt sorry for the family and that he worries about the children. He said he hopes they find someone to help them and that he had left because he realized that his being there was doing more harm than good.

Broderick said he isn't sure what he'll do in the future, but would be celebrating Wednesday evening.

"We'll be celebrating in typical Catholic fashion, with my Jewish lawyer," Broderick said, clapping Blum on the back.

Jurors had no comments about the trial except to say it had been a long day.