Bishop's Vexing Beliefs Have Deep Roots
Three Seminarians in 1980s Describe 'Offensive' Remarks

By Michael Paulson
Boston Globe
February 20, 2009

http://www.boston.com/news/local/massachusetts/articles/2009/02/20/bishops_vexing_beliefs_have_deep_roots/

John and Joseph Rizzo were looking for an old-fashioned Catholicism when, fresh out of Weymouth South High School, they enrolled at a small schismatic seminary in Connecticut where Mass was in Latin and the modern era was viewed with suspicion.

But they were not prepared for one element of their experience in Ridgefield: a rector, the Rev. Richard Williamson, who they experienced as an unabashed anti-Semite who was dismissive of the Holocaust and hostile to women.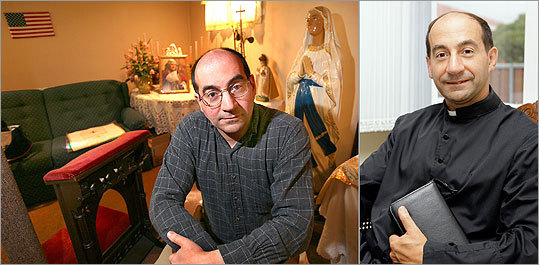 Brothers Joseph Rizzo (left) of Weymouth and the Rev. John Rizzo, seen here in Sydney, described Bishop Richard Williamson as an unabashed anti-Semite who was hostile to women. Pope Benedict XVI recently ended Williamson's excommunication.



Today Williamson is at the center of a global controversy after Pope Benedict XVI lifted an excommunication order against him and three other leaders of the ultraconservative Society of St. Pius X who in 1988 had been ordained bishops without Vatican approval.

The Vatican says that the pope was unaware of Williamson's views on the Holocaust, which were articulated most recently in an interview with Swedish television in which Williamson said he did not believe that the Nazis used gas chambers to kill Jews and that he believed the Jewish death toll in concentration camps was 200,000 to 300,000, rather than 6 million.

But for some of the young men who spent time with Williamson in Connecticut in the 1980s, the only surprise is that anyone is surprised to learn that Williamson harbors views that are anathema to his church.

"He got his point across, right from the start," said the Rev. John Rizzo, who in 1985 was ordained a priest of the Society of St. Pius X, which broke with Rome over the liturgical and theological reforms instituted during the Second Vatican Council of the mid-1960s. John Rizzo left the Society of St. Pius X in 1993 and joined a different traditionalist society, the Priestly Fraternity of St. Peter, which is in union with Rome.

"I have a sizable nose, and he would say to me, 'Rizzo, are you baptized, or are you a Jew?' " John Rizzo, who is now based in New Zealand, said in a phone interview from Australia. "There was another seminarian named Oppenheimer, and he would say: 'Oppenheimer, I don't like your name. If you keep it up, there's a gas chamber waiting for you at the boathouse.' "

Oppenheimer, now the Rev. Dom Daniel Augustine Oppenheimer, got to know Williamson while at the Society of St. Pius X's seminary in Switzerland; he said in a phone interview from California that he would not describe specific language used by Williamson, but that "when I met him he made a number of remarks to me that made it clear to me that this was not where I belonged." Oppenheimer was ordained a member of the Priestly Fraternity of St. Peter and went on to found another traditionalist organization, the Canons Regular of the New Jerusalem, which is also in union with Rome.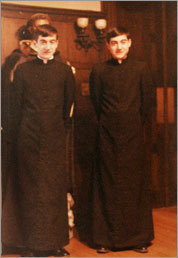 John and Joseph Rizzo studied with Bishop Richard Williamson at a seminary in Connecticut.



"His personal opinions on a number of matters are very offensive," Oppenheimer said of Williamson.

John and Joseph Rizzo studied with Bishop Richard Williamson at a seminary in Connecticut.

John Rizzo's twin brother, Joseph, who left the seminary without being ordained, also recalls Williamson's rhetoric. Joseph Rizzo is now back in Weymouth, where he has four children and is a general manager for Tedeschi Food Shops.

"He called the Holocaust the biggest theatrics known to mankind - I remember sitting in a conference one time when he said those words, and I couldn't believe it - he looked around the room and saw the jaws dropping," said Joseph Rizzo. "I walked around the lake with him, and I said, 'Why would you say that?' and he said, 'There's no documentation.' He said it was all staged, and when I asked why, he said because the Jews own the country, they own the banks, and he felt it was some kind of effort to generate some sympathy toward them."

The US district superior for the Society of St. Pius X, the Rev. Arnaud Rostand of Missouri, did not return a call seeking comment. Williamson has been living in Argentina, where he had been the rector of a St. Pius X seminary, but he was removed from that post last week. Yesterday the Argentine Interior Ministry ordered him to leave the country. The Vatican has also ordered Williamson to recant his views, and the pope told a group of visiting American Jewish leaders last week that "any denial or minimization of this terrible crime [the Holocaust] is intolerable and altogether unacceptable."

There has been plenty of evidence over the last few decades about Williamson's controversial views. In 1989, the Royal Canadian Mounted Police investigated the bishop, but did not press charges, after he told an audience in Quebec: "There was not one Jew killed in the gas chamber. It was all lies, lies, lies." He has also questioned whether terrorists were behind the Sept. 11, 2001, attacksand has suggested that women should not wear pants.

The Rizzos and Oppenheimer all said they complained about Williamson in some fashion.

Joseph Rizzo said he spoke directly to Archbishop Marcel Lefebvre, the French prelate who founded the society, although his complaint was general. "I didn't say, 'Hey, I think this guy is a kook,' but my concern was that there was no magisterium in place."

Oppenheimer said he spoke to the superior general of the society. "I don't know what they did with my concerns," he said, "but I'm sure I wasn't the first one to bring up the observations."

But the three men are also all still devout Catholics who attend traditionalist Masses and do not blame the pope for the scandal.

John Rizzo called Williamson "a sick man" with "a horrible attitude toward women and a horrible attitude toward Jews."

"I would think Rome would have been more familiar with Williamson's views toward the Holocaust, but my take is that the Holy Father, in the spirit of charity, wants to bring them all back into the church," Rizzo said.

Joseph Rizzo said he believes the pope's staff failed him, saying that "if they did any background check, they should have known" but that "the other three bishops are more humble."

Oppenheimer, who said he does not believe Williamson's views are representative of the broader traditionalist movement, said, "I am happy that these excommunications are being lifted, and I hope for a swift reconciliation of everyone to Catholic unity."

Michael Paulson can be reached at mpaulson@globe.com