The Legacy of Abuse

By Elizabeth Hardin-burrola
Gallup Independent
February 24, 2009

http://www.gallupindependent.com/2009/02February/022309thelegacy.html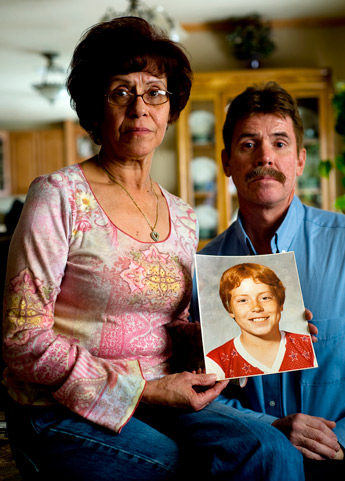 Helen Wagner sits with her son, Adam Rogers, while holding a photo of her younger son Marcus Rogers. Wagner and her family believe Marcus was allegedly the victim of sexual abuse by the Rev. John Boland 26 years ago. Marcus died in October of 2007 from complications stemming from alcoholism and diabetes



Unanswered questions linger about alleged molestation

WINSLOW, Ariz. — Helen Wagner lives almost literally in the shadow of Madre de Dios Church in Winslow. Located just two blocks from the church, her house faces the railroad tracks and her former parish of St. Joseph's. Madre de Dios is almost in her backyard.

For the past 26 years, the church has cast a long and painful shadow on her memories. Twenty-six years ago this week, three friends of her 14-year-old son, Marc Rogers, made allegations to her that they had seen the Rev. John Boland molest her very intoxicated son in the rectory of Madre de Dios on Feb. 26, 1983.

Wagner's painful memories were stirred recently by news reports that Boland had been removed from ministry in the Diocese of Gallup by Phoenix Bishop Thomas J. Olmsted, the current apostolic administrator of the Gallup Diocese.

According to Lee Lamb, the diocese's communications director, Olmsted discovered a reference to the allegation in Boland's personnel file. An investigation by the diocese's Sexual Abuse Review Board will determine Boland's return to or permanent removal from ministry.

Diocese informed

In May 2005, Joe Baca, a representative of the Survivors Network of those Abused by Priests, met with former Gallup Bishop Donald E. Pelotte and gave Pelotte the names of almost 20 diocesan or religious order priests that SNAP suspected of being possible sexual abusers.

Baca said Pelotte agreed to research the list, determine which allegations were credible, and then publish the names of credible offenders.

Boland's name was reportedly on Baca's list as Wagner's older son, Adam Rogers, had talked to Baca in 2005 about what had allegedly happened to his brother.

Boland's name was on two lists Baca provided the Independent in 2005.

In an interview on Wednesday, Adam Rogers said he tried to encourage Marc to come forward with the allegation.

"He started crying, and he said that he couldn't do it again. He couldn't talk about it again," Rogers recalled.

"He asked me if I would talk for him, if I would be his voice."

After talking with Baca, Adam Rogers waited for a response from the Diocese of Gallup. Four years later, that response came in the form of news reports about Olmsted removing Boland from ministry. In the meantime, Marc Rogers died in October 2007.

Waiting for answers

Just as her older son waited for a response from the Diocese of Gallup in 2005, Wagner waited for information about Boland's prosecution from the Winslow Police Department and the Navajo County Attorney's office in 1983.

Wagner said she recalled filing a report with two Child Protective Service employees after being told the allegations and seeing scratches on her son's inner thighs. Boland was arrested, she said, and she and Marc were subpoenaed to a court hearing. But Wagner said they were never asked to testify in court or even allowed to step into the courtroom that day. Instead, she said, she was told the case was dismissed and Boland was being transferred out of Winslow.

Until last week, Wagner thought that had been the end of the case. Even when Wagner married her current husband, a former police officer who later served briefly as Winslow Police Chief, Wagner said she couldn't bring herself to discuss the charges against Boland or ask for her husband's help obtaining a copy of the police report because the subject was so painful to both herself and Marc.

However, on Wednesday, Adam Rogers obtained a copy of Boland's court file. And while it provides information Wagner never received, it also raises a number of puzzling questions.

Case details

According to the file, Boland was arrested by Winslow Police Lt. Sterling Norgaard. On the booking sheet, Norgaard checked "yes" to Question 13, "Has defendant admitted involvement in the offense?" and on Question 15 he indicated Boland might be "mentally disturbed."

Boland declined a public defender and went on to hire three different attorneys. His first lawyer resigned because he was also representing Norgaard in a state investigation of the Winslow Police Department, his second attorney stepped down to accept a position in New Mexico, and his final attorney, Michael V. Stuhff, went on to gain national attention defending Marine Sgt. Clayton Lonetree.

The Navajo County grand jury charged Boland with four class 1 misdemeanor counts of contributing to the delinquency of a minor and one class 3 felony charge of committing a lewd and lascivious act with a child under the age of 15.

Boland's second attorney, Frederick J. McCarthy, requested the juvenile records of Marc Rogers and two of the other teenage boys, two years of police records of all incident reports involving the Madre de Dios church and rectory, the statements to police by the mother of one of the teenage witnesses, and tape recordings of any interviews with Norgaard, the four alleged victims, and two of the boy's mothers.

McCarthy also asked for "the book taken from the possession of the defendant entitled 'The Morality of Homosexuality' or something like that."

Defense allegations

On June 6, 1983, Boland signed an agreement with Warner Leppin, the deputy county attorney. Leppin dropped the three misdemeanor charges involving the three other teenage boys, and Boland pleaded guilty to the misdemeanor charge involving Marc Rogers. Boland was scheduled in July to be sentenced on the misdemeanor and have a jury trial on the felony charge. It was also agreed that Boland and two of the teenage boys would submit to polygraph examinations.

But before the sentencing and jury trial could be held, defense attorney Stuhff filed a motion claiming Boland had been denied substantial procedural rights.

According to Stuhff, the grand jury indictment was based solely on Norgaard's sworn testimony, and the attorney asserted Norgaard "on at least two occasions made false statements either deliberately or with a reckless disregard for their truth as to the content of statements which he had obtained from two boys alleged to be witnesses ...

Norgaard categorically stated that two juvenile witnesses who had made written statements claimed to have seen the defendant "removing the underwear which Marc Rogers had on"... These assertions of Norgaard were and are contradicted by the actual statements of the alleged witnesses ... and by the statement of Helen Bardsley (now Wagner) who relates that Marcus (the alleged victim) still had his shorts on." Later Stuhff adds "the alleged witnesses have impeached even their misrepresented statements of March 7, 1983."

The next month Boland pleaded guilty to the misdemeanor charge, and the county attorney's office agreed to dismiss the felony charge. Judge Jay M. Abbey ordered the felony charge dismissed without prejudice, and Boland was placed on probation under the supervision of a New Mexico probation office.

Unanswered questions

Adam Rogers is now concerned over the allegations in Stuhff's motion about Norgaard's testimony. As his mother told the Independent on Wednesday, Marc's friends made the allegation to both her and to the Child Protective Services employees. For the past 26 years, Wagner has grieved over what did happen to her youngest son on the night of Feb. 26, 1983. Rogers is left to wonder about the confusing allegations about the case's testimony.

Wagner is left to wonder why she was never informed that the two criminal charges against Boland involving her son were not dismissed in June 1983 as she was told in the Navajo County Courthouse. And she is left to wonder why she and Marc were never consulted about the county attorney's September 1983 plea agreement with Boland.

Wagner has now requested a copy of the original Child Protective Services report, and Adam Rogers has been trying to locate the original witnesses who made the child molestation allegation. The Independent has talked briefly with one of the witnesses over the telephone, but thus far he has not agreed to discuss the case.

Attempts to locate a copy of the original Winslow police report have not been successful. Police records staff member Sylvia Begody said reports are destroyed 25 years after a case is closed.