Pope Rescinds Priest's Promotion

BBC News
March 2, 2009

http://news.bbc.co.uk/2/hi/europe/7919705.stm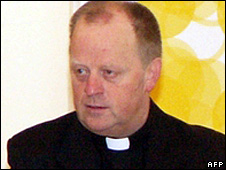 Father Wagner said Hurricane Katrina was divine retribution for New Orleans



Pope Benedict has formally rescinded the promotion to bishop of an Austrian conservative priest whose appointment led to protests within the Church.

The Vatican said Gerhard Maria Wagner was "exonerated from his obligation" to become auxiliary bishop of Linz.

Last month, Father Wagner said fierce criticism had persuaded him to decline.

Some Austrian Catholics were angered by his description of Hurricane Katrina as God's punishment for New Orleans' sins, and the Harry Potter novels as satanic.

Pope Benedict's promotion of Father Wagner in January came a week after another PR storm, which erupted after he lifted the excommunication of a bishop who denied the extent of the Holocaust.

In a television interview last November, British-born Bishop Richard Williamson disputed that six million Jews had died at the hands of the Nazis, and claimed that none had died in gas chambers.

The bishop said last week that if he had known the full harm his comments would cause, he would not have made them.

The Vatican immediately rejected the apology and told him to "unequivocally and publicly" withdraw his comments.