Rabbi Accused of Sexual Abuse Cross-Examines Daughter

Gothamist
March 4, 2009

http://gothamist.com/2009/03/04/rabbi_accused_of_molestation_cross-.php

As if taking the stand was not difficult enough for a woman who accuses her father, a rabbi, of molesting her for years, yesterday she had to face him as he cross-examined her at the trial—Rabbi Israel Weingarten is representing himself.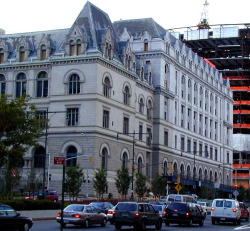 Photo of Brooklyn Federal Court



Inside Brooklyn Federal Court, the 27-year-old woman, who says Weingarten molested her from ages 9 through 16, when the family lived in Monsey in Rockland County and Belgium, as well as on trips, was asked by her father why she didn't come forward to the cleaning lady, a close confidante. She responded, "My feeling from your molesting me was the utmost fear of blackmail and torture. Because you hit me when I told my mother [about the abuse]. Why would I continue to reveal that? Didn't I get hit enough?"

The woman said she left the faith and attempted to "forget it ever happened to me" until her mother encouraged her to come forward. She says her father had told her that "she could never prove it." Weingarten also interrogated his daughter about a romance she pursued as a teenager with a married neighbor of theirs. She told him, "I finally got to be with another guy besides my father...I didn't do much thinking. I followed my heart." During the testimony, the News says that "some jurors glared at Weingarten, others wiped their eyes."

According to Newsday, Weingarten, who also has two lawyers assisting him "often interrupted his daughter's answers by scolding her." At some point during yesterday's cross-examination, his tone prompted Judge John Gleason to say to him, "You have [already] created a fairly untenable and horrific situation by your deciding to represent yourself. Now, I'm not sure where this cross-examination is going, but I know you are not going to lecture this witness." The woman will testify again today with testimony from her mother soon to follow.