Church, Not Atm for Priests

Palm Beach Post
March 4, 2009

http://www.palmbeachpost.com/opinion/content/opinion/epaper/2009/03/04/a10a_priest_edit_0304.html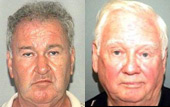 Former Delray priests Francis Guinan (left) and John A. Skehan are accused of misappropriating $8.6 million from their church.



The Rev. Francis Guinan testified that the trips he took to Las Vegas, the Bahamas and Ireland were "a small compensation" for performing his priestly duties during 20 months at St. Vincent Ferrer Catholic Church in Delray Beach. So, he added, were the golf games, upscale hotel rooms and gifts for a lady friend who often traveled with him.

His defense attorney said church rules were so lax that no one could blame the priest for assuming that he had full discretion to spend money from the collection plate as he saw fit. Guinan said policy allowed priests to spend up to $50,000 on whatever they liked.

It was a novel defense. Also outrageous and absurd. Lots of people in Las Vegas probably need a priest. But Guinan was not doing outreach from the Catholic Diocese of Palm Beach.

The Palm Beach County jury found Guinan guilty of stealing between $20,000 and $100,000 from the church. He'll be sentenced this month, as will the Rev. John Skehan, who pleaded guilty to stealing from St. Vincent Ferrer. He preceded Guinan as pastor.

The diocese said in a statement that it "is relieved that the jurors were not swayed by the inaccurate presentation of the defense." The diocese also called the claim that priests can spend up to $50,000 on their own "blatantly false." Pastors can spend the money "exclusively for church purposes such as parish building renovations and the like."

Testimony, though, indicated that slush funds to conceal money from the church were common. Part of the problem had been that church finances typically were reviewed only when new pastors took over, and some priests served for so long that there was no regular review. That changed in March 2005, when the diocese began requiring an independent audit for each church every two years. Those changes were put in place before Guinan and Skehan were arrested in September 2006.

Some say that the disgraced priests did more overall good than harm. But even if certain parishioners forgive them, society has to punish them. The diocese should continue to improve and enforce financial accountability for the same reason: People want to know that their donations are being used properly. Unaddressed, Guinan's "small compensation" could have done big damage.