Edmonton-Area Priest Faces Sex Charges

CTV
March 5, 2009

http://calgary.ctv.ca/servlet/an/local/CTVNews/20090305/edm_priest_090305/20090305/?hub=CalgaryHome

A well-known Edmonton priest is facing charges of sexual assault and sexual interference.

Father Don Bodnar made a court appearance in late January and on Thursday, his church said as a result, Bodnar has been put on administrative leave.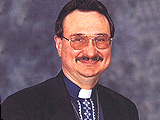 Edmonton-area priest Don Bodnar is seen in this photo courtesy edmontoneparchy.com



Bodnar's charges include an allegation that the victim is under the age of 16.

The priest has been posted at churches in and around Edmonton for more than a quarter century and on Thursday, his diocese issued this statement to CTV about the charges filed in January.

"There was an allegation put forward ... the current situation has nothing to do with his ministry. The eparchy does have a sexual abuse protocol, and the protocol was put into force at that time....part of that protocol asks the accused clergyman to take an administrative leave."

Bodnar has chosen to take a personal leave according to his archdiocese while he deals with the charges and allegations he currently faces.

Alberta Justice has confirmed that Bodnar has a trial set for September 28th in Edmonton.

CTV has learned that the charges of sexual assault and sexual interference allegedly took place last September in the Edmonton area.