Reardon Case Mediation Drags on for Victims, Hospital

By Arielle Levin Becker
Hartford Courant
March 8, 2009

http://www.courant.com/news/health/hc-secondlook0308.artmar08,0,5075258.story

The legal fight over the alleged abuse by Dr. George Reardon is taking longer than some initially hoped, but lawyers say it remains in mediation and on track.

More than 135 people who say they were sexually abused by Reardon are suing St. Francis Hospital and Medical Center, where Reardon worked, alleging that the hospital was negligent in failing to stop the abuse. Attorneys for both sides agreed last March to mediate the cases. At the time, Superior Court Judge William Cremins said he hoped the mediation would be completed by the end of 2008.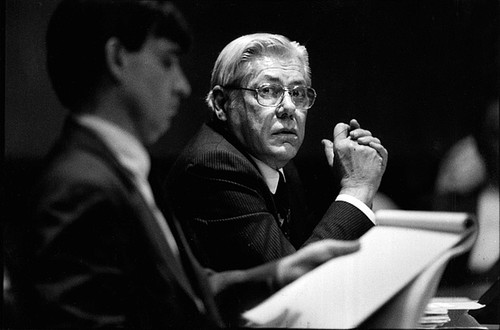 Dr. George E. Reardon, who died in 1998, listens to testimony in 1993 at the Legislative Office Building in Hartford that he had sexually abused a brother and sister.
Photo by Michael McAndrews


A year later, the case is still in mediation and may take many more months to complete. But attorneys for the plaintiffs say the pace reflects the complexity of a legal action involving so many victims, each with unique circumstances.

"In light of the amount of information that needs to be exchanged and the process by which all of this is being done, I'm not surprised by the amount of time it's taking and will take," said Paul Edwards, whose firm, Stratton Faxon, represents 53 plaintiffs.

Avon attorney Susan Smith, who represents 59 plaintiffs in conjunction with Hartford attorney Richard Kenny, said the case was "on track."

"It's a lot of people, it's a long time period, it's a lot of information and it's proceeding and processing," she said.

One of Reardon's victims, who sued under the name James Roe, said he is frustrated the case is not resolved. Since the case escalated two years ago, he said he has struggled with traumatic memories and continues to feel anger, frustration and anxiety about the case.

"The system let me down to begin with, and now the system's letting me down today," he said.

Smith said victims she has heard from are willing to go through the necessary steps but find the process painful.

In a statement, St. Francis officials said the hospital is working with the plaintiffs' attorneys to expedite the mediation process. "We are cooperating fully in this matter, and look forward to a fair and prompt resolution," the statement said.

Reardon, who died in 1998, was accused of sexually abusing and inappropriately photographing children for decades, starting in the 1950s. He practiced medicine at St. Francis from 1963 to 1993, and many of the children he is accused of abusing were patients or children from the community he recruited to participate in what he claimed were growth studies.

Evidence of Reardon's crimes came to light in 2007, when the owner of Reardon's former home in West Hartford found more than 50,000 slides and 100 movie reels of child pornography hidden behind basement wall panels.

Since then, about 135 victims have filed lawsuits against St. Francis. Hospital officials have said the hospital did not know of the specific allegations against Reardon until 1993, when state health officials tried to revoke his license.

The case could be affected by pending legislation that would amend the statute of limitations in cases like Reardon's.

Under current law, victims of childhood sexual abuse have until they turn 48 years old — 30 years after turning 18 — to bring civil claims. The proposed law would provide an exception for cases in which new evidence is found that could not reasonably have been discovered before. It also would allow victims in those cases to sue within three years of the discovery, regardless of their age.

About 40 to 50 plaintiffs in the Reardon case are beyond the statute of limitations, Smith said.

Lobbyists for St. Francis have opposed the bill. Smith said it would be in line with laws in other states that base the statute of limitations for civil actions in child sexual abuse cases in relation to the victim's realization of injury, rather than the victim's age or time since the abuse.

If the law does not change, attorneys are pursuing arguments that could still allow victims older than 48 to collect damages. They are arguing the hospital was involved in a coverup that interfered with the victims' ability to know they had been injured, or that they had the right to take action, Smith said.