Order in Denial

By Jason Berry
Hartford Courant
March 8, 2009

http://www.courant.com/news/opinion/commentary/hc-commentaryberry0308.artmar08,0,7152922.story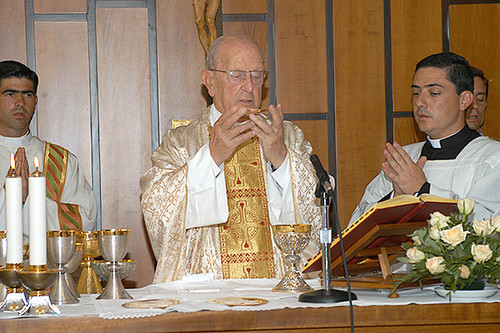 Father Marcial Maciel celebrates Mass in August 2005 in Rome. Maciel was banished to "a discreet life of prayer and penitence" by the Vatican in May 2006 after an internal investigation into accusations that he sexually abused a number of male youths. Maciel, founder of the ultra-conservative Legionaires of Christ movement, died last year at 87.



Catholic Sect Riven Over Admitting Founder's Disgrace

An epic crisis has engulfed the Legionaries of Christ, an international religious order which has U.S. headquarters in Orange. The Legion, with a $650 million budget and seminaries, prep schools and universities in several countries, recently disclosed that its venerated leader, Father Marcial Maciel Degollado, had a daughter. She is reportedly a Spaniard in her 20s.

When Maciel was buried last year in his Mexican hometown, the Legion website said the 87-year-old founder was in heaven. Now, blogs are teeming with angry statements by Legionaries who feel betrayed. As well they should, and not just by Maciel. Three Mexican clerics and an Irish priest hand-picked by the founder tended his needs after he retired in 2004. The Rev. James Farfaglia, a former Legion priest in Corpus Christi, says the order is "in a civil war."

The implosion of a religious order is unique in modern church history. And much of the fault lies squarely with Pope Benedict XVI.

In 1997, Gerald Renner and I reported in The Courant on sex abuse accusations against Maciel by nine men who had been Legion seminarians in Spain and Rome in the 1950s. Juan Vaca, who said his abuse began at age 12, produced documents he sent to the Vatican in the 1970s and in 1989, to Pope John Paul II. Each time, the Vatican failed to act.

Refusing to be interviewed, Maciel asserted his innocence. The Vatican was silent. In 1998, the men filed a canon law case with then-Cardinal Joseph Ratzinger seeking Maciel's expulsion.

The pope is supreme arbiter of church law. John Paul II ignored the charges and championed Maciel. The Legion used footage and photographs of John Paul and Maciel in a fundraising boom, while their website attacked the men who filed the canon law case. But in late 2004, Ratzinger, realizing the pope was dying, ordered a canon lawyer to investigate. Witnesses testified in Italy, Mexico and the U.S.

In May 2006, Ratzinger, as Pope Benedict XVI, approved an order that banished Maciel from public ministry to "a life of prayer and penitence."

Ignoring the victims, the Vatican order did not specify what Maciel did. That shameful omission fueled more Legion disinformation. The order told its followers that Maciel, wrongly accused, would one day be a saint! Benedict tolerated that bizarre ruse presumably to keep the Legion intact — instead of telling the truth and launching top-down reform.

In 2007, the Legion filed suit in Alexandria, Va., against ReGain, a group of ex-members, for posting the order's unpublished constitutions on the Web. The bylaws included secret vows Legionaries took never to criticize Maciel and to report on anyone who did — Maciel's coercive tools to shield his pathological sex life. Rebuilding their lives after traumatic years, ReGain members lacked funds for a legal fight.

The Legion succeeded in trampling the First Amendment by shutting down the message board and forcing the return of its bylaws, which nevertheless circulate on the Internet.

Now, several Legion priests and publicists have apologized to Maciel's victims. But the split is so deep that a Legion priest has asked the Vatican to take over — meaning, oust Maciel's chosen successors.

Archbishop Edwin O'Brien of Baltimore, who has researched the Legion, all but called it a cult in an interview with The Catholic Review: "From the first moment a person joins the Legion, efforts seem to be made to program each one and to gain full control of his behavior, of all information he receives, of his thinking and emotions."

Many families are clamoring to get adult children or siblings out of the Legion, and its 70,000-member lay affiliate, Regnum Christi, whose members studied Maciel's letters in sessions with priests. Regnum Christi is pivotal to the fundraising. O'Brien echoes those who say their relatives in Regnum Christi and the Legion are brainwashed.

Six weeks before the news of Maciel's daughter broke, Cardinal Franc Rode, who oversees religious orders at the Vatican, told Legion followers: "God has made the Legion of Christ and Regnum Christi flourish as the work of his own hands. You can always count on the pope's esteem and support."

But can they count on Benedict to tell the full truth?