Sculpture Honours Magdalen Women

RTE News
March 8, 2009

http://www.rte.ie/news/2009/0308/magdalen.html?RTEMAILID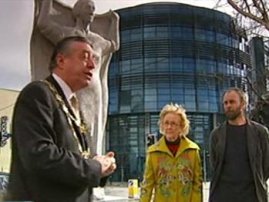 Galway. Sculpture unveiled



Up to 100 people gathered in Galway on International Women's Day for the official unveiling of a public sculpture to honour Galway's Magdalen women.

The limestone sculpture entitled 'Final Journey' is by the artist Mick Wilkins.

It features poetry by playwright and poet Patricia Burke Brogan, who is known for her award-winning play Eclipsed about the Magdalen Women.

The sculpture is located at the corner of Forster Street and Bothar Bhreandan Ui Eithir.

It backs on to the site of the former Convent of Mercy's Magdalen laundry, which was demolished in 1991.