Catholic Church, State in Power Struggle

By Daniela Altimari
Hartford Courant
March 10, 2009

http://www.courant.com/news/local/hc-catholicshowdown.artmar10,0,7744055.story

A proposed bill that would take power from Catholic priests and bishops and turn it over to parishioners has sparked outrage among church leaders, criticism from opposition lawmakers and questions about its legality.

"You cannot tell a church how it can govern itself," said Marc D. Stern, general counsel for the American Jewish Congress in New York. "The church is entitled to govern itself any which way it wants."

The bill, which would create lay councils of seven to 13 people to oversee the finances of local parishes, relegating Catholic pastors and bishops to an advisory role, won't get its official public hearing before the legislature's judiciary committee until Wednesday.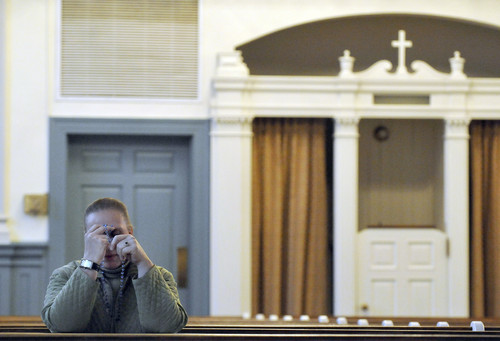 Jacquelyn Lesser of Wethersfield prays with her rosary after Lenten services at the Corpus Christi Church in Wethersfield Monday evening. According to the American Religious Identification Survey, the percentage of Connecticut state residents who identify themselves as Catholic has declined steadily over the past 18 years, while the percentage of residents who said they had no religion has grown.
Photo by John Woike


But by Monday, a firestorm had erupted: Thousands of Catholics contacted the committee's co-chairmen, Rep. Michael Lawlor, D- East Haven, and Sen. Andrew McDonald, D- Stamford, to register their displeasure; McDonald's in-box was inundated with 3,600 e-mails by 9:30 a.m., an aide said.

Senate Republican leader John McKinney called the proposal "offensive" and "patently unconstitutional." And the New York-based Catholic League for Religious and Civil Rights issued a statement demanding that Lawlor and McDonald be removed from office.

"I was astounded at the reaction in my own parish," said Monsignor John J. McCarthy. Like priests across the state, he discussed the proposal with his parish at the Cathedral of St. Joseph in Hartford on Sunday. "People wanted to know, 'How can the legislature do this? Isn't this unconstitutional?' I can't recall seeing such strong reaction to any issue."

Bridgeport Bishop William Lori also condemned the bill, calling it "a thinly veiled attempt to silence the Catholic Church on the important issues of the day, such as same-sex marriage."

The proposal is part of a larger struggle within the Catholic Church over the balance of power between the laity and the leadership. "Catholic lay people provide all the funds for the running of the parish, but they have absolutely no executive authority for how those dollars are spent," said Paul Lakeland, director for the Center of Catholic Studies at Fairfield University. "That's a situation that increasing numbers of people are unhappy with."

The issue was brought to McDonald by a Catholic constituent from Greenwich named Tom Gallagher, who is part of a group pressing for parishioners to play a greater role in church governance following two cases of financial impropriety at Fairfield County churches.

McDonald, who is Catholic, said he is keeping an "open mind" and had yet to decide whether to embrace the measure. But he does not regret raising the issue.

"I certainly think it's an appropriate function for legislators to listen to constituents who have been the victims of fraud and take their concerns seriously," he said.

The state already has laws, some dating back more than 140 years, regulating religious denominations. If the new proposal is unconstitutional, McDonald said, perhaps existing laws are as well.

This is not the first time the idea of Catholic governance has been broached. Former Republican state Rep. Claudia "Dolly" Powers of Greenwich said she, too, was approached by constituents seeking a similar bill in recent years. "It's a very difficult issue to try and tackle without crossing some of those lines," she said Monday. "We did give it a shot ... but it just didn't fly."

John Lucarelli is a member of St. Michael the Archangel Parish in Greenwich, where the former pastor was forced to resign amid allegations of financial mismanagement, including claims that he kept two bank accounts secret from the diocese. An audit showed $400,000 was missing.

"I love the church, but there is a need for reforms," said Lucarelli, who, along with Gallagher, was active in a group called Catholics for Better Governance. "My hope is that this encourages debate within our parishes to get the laity more involved. It's the only way to get the healing process to begin. ... If parishioners don't stand up and take back their church, these things will continue."

Lucarelli acknowledged that legislative fiat might not be the best way to achieve that goal. But other efforts to convince church leadership to change have been unsuccessful, he said. "You keep banging your head against the wall, but you've got to stop and try a new tack," he said.

Catholic leaders say this is about more than the shape of church bureaucracy. The question of church governance goes to the very core of the faith dating to the apostles who walked with Christ, McCarthy said. "The bishops are charged by divine law according to our faith with the governance of our church," he said. "This proposal is contrary to the apostolic nature of our church."

And it's not only Catholics who should be concerned, McKinney said. "If government can change the Catholic religion, then it can change any religion."