Priest Admits Stealing from School; Sex Abuse, Drug Use Alleged

By Julie Shaw
Philadelphia Daily News
March 10, 2009

http://www.philly.com/philly/hp/news_update/20090310_Priest_admits_stealing_from_school__sex_abuse__drug_use_alleged.html

The Rev. Charles Newman, former president of Archbishop Ryan High School, pleaded guilty yesterday to felony theft and forgery charges in connection with his having stolen hundreds of thousands of dollars from the school and his order of Franciscan Friars.

Newman, who once headed the largest school in the Philadelphia Archdiocese, allegedly gave $54,000 of that money to a former student whom he is accused of having sexually abused.

He did not face criminal charges on the alleged sexual abuse because the complaint surfaced after the statute of limitations in effect at the time had passed.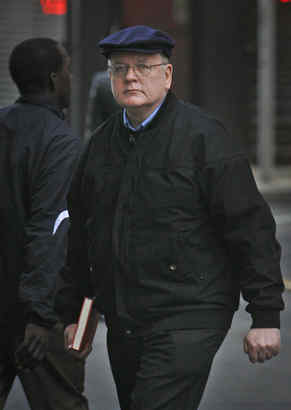 The Rev. Charles Newman, former president of Archbishop Ryan High, arrives for court, where he pleaded guilty yesterday.
Photo by Alejandro A. Alvarez


Yesterday in court, a bespectacled Newman, 58, dressed in a blue sweater and black pants, pleaded guilty to one count of forgery, a second-degree felony, and two counts of theft, both third-degree felonies.

Prosecutors contend that Newman stole more than $900,000 from the two religious institutions from July 2002 - when he became president of Archbishop Ryan, on Academy Road near Chalfont Drive in the Northeast - to Nov. 20, 2003, when he was fired.

Defense attorney Frank DeSimone contended in court yesterday that most of the money taken from the Franciscan Friary accounts was money that had been transferred from the school accounts and shouldn't be counted twice.

According to the District Attorney's Office's grand-jury presentment on the case, Newman gave former student Arthur Baselice III a total of $54,000 in 2002 and 2003.

Arthur Baselice Jr., Baselice's father, had told the grand jury that his son, a 1996 Ryan graduate, had informed him that Newman "repeatedly sexually abused him" and introduced him to illegal, addictive drugs during his junior and senior years.

According to the presentment, Newman gave Baselice III "cash to purchase narcotics, up until his graduation, for both Newman's use and Arthur III's use during the sexual abuse." After graduation, Baselice "stopped Newman from sexually abusing him . . . but he continued to receive cash from Newman," to purchase narcotics, the report says.

Lawyer Jay Abramowitch, who in 2004 filed a lawsuit on Baselice's behalf against the Wisconsin-based Franciscan Friars order, has alleged that the payments to Baselice were intended not only for drugs, but to buy his silence. (The suit was denied because the statute of limitations on civil cases in this matter had passed.)

Baselice, of Gloucester County, N.J., died Nov. 30, 2006, of a drug overdose. He was 28.

When Deputy District Attorney Charles Gallagher read a summary of facts in the theft case yesterday and mentioned Baselice's name, Baselice's mother, Elaine, wept.

DeSimone objected when Gallagher was about to summarize the part of the presentment dealing with the alleged sexual abuse.

Common Pleas Judge Rose Marie DeFino-Nastasi sustained the objection, and so the details were not revealed in court.

But when DeSimone asked that pages of the presentment dealing with the alleged sexual abuse "be purged from the public record," the judge refused.

Newman's sentencing is set for May 8. He faces a maximum of 24 years in prison. *

Contact: shawj@phillynews.com