Ex-prosecutor's House Arrest Draws Anger

By Laurie Mason
Courier Times
March 11, 2009

http://www.phillyburbs.com/news/local/courier_times/courier_times_news_details/article/28/2009/march/11/ex-prosecutors-house-arrest-draws-anger-1.html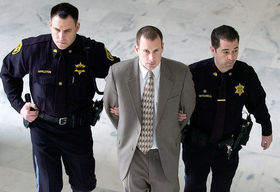 Being escorted by Bucks County Sheriff Deputies, Anthony Cappuccio-Former Chief Deputy DA pleads guilty to child endangerment. Cappuccio, former chief deputy district attorney, was accused of giving booze and marijuana to teenagers
Photo by Rick Kintze


Parents and church members infuriated by the sentence called it the equivalent of being "grounded," according to one official.

Anthony Cappuccio, the former chief deputy Bucks County district attorney who resigned in September amid allegations that he had sex with a 17-year-old boy, was sentenced Tuesday to three to 23 months of house arrest.

Cappuccio, 32, of Perkasie pleaded guilty to child endangerment, corruption of minors and related charges. He admitted that he supplied three teenage boys with alcohol, smoked marijuana with them at rock concerts, and had an ongoing sexual relationship with one of them.

The sentence — although within state sentencing guidelines — infuriated the victims' parents and members of the Perkasie church where Cappuccio met the boys through his work as a youth group leader.

"They expressed to me that they anticipated a sentence of actual incarceration, instead of what amounts to him being grounded in his bedroom for a few months," said Deputy Attorney General Marc Costanzo.

Cappuccio further enraged the victims' families by identifying them by name in open court while tearfully reading an apology letter. Costanzo called the move a calculated "parting shot" at the boys, whom Cappuccio had urged to keep quiet about the crimes.

"He was well aware of what he did," Costanzo said. "It was a message ... if his name was going to be dragged through the mud, then he intended to have the victims go through the same scrutiny that he was."

Costanzo said that Cappuccio had engaged in sexual trysts with one victim while out on bail following his arrest, and had sent e-mails and texts to the boys in an attempt to quash their testimony.

"There was a lot of manipulation going on before and during the investigation," Costanzo said.

Cappuccio, a married father of two, was arrested in October, following an investigation that began Sept. 5, when a police officer caught Cappuccio and a 17-year-old boy inside a car parked behind a Richland Township shopping center.

Court records say both were "partially clothed."

Cappuccio, a prosecutor since 2002, resigned within days. Detectives later found photos of nude teenage boys engaging in sex acts on his work computer, but he was not charged with possessing child pornography because investigators couldn't determine the age of the boys in the pictures.

"I was the adult. I should have known better," Cappuccio said in court Tuesday.

He apologized to the victims, their parents, his family, members of the First United Methodist Church, the Court of Common Pleas, his fellow prosecutors, law enforcement in general, and the entire Bucks County community.

"There were victims who counted on me to see their cases through, and I let them down," he said.

The teens were not in the courtroom.

Stephanie Dockery, a church member who worked with Cappuccio in the youth group and later took over his position there after he was arrested, read aloud a letter from the teen with whom Cappuccio had the sexual relationship.

"I have been through a roller coaster of emotions," wrote the boy, who was identified by prosecutors as victim No. 1. He described a mostly happy time as Cappuccio's lover, but said that the events leading up to and after the former prosecutor's arrest have left him confused.

"In one night, my life was sent into a spiral. I am still in it," he wrote. "I have become a very confused young adult."

Dockery then read her own letter, chiding Cappuccio for betraying her trust and ticking off the "lessons" he taught his teenage victims.

"One — underage drinking is OK as long as you do not get caught. Two — smoking pot is OK too; you can even drive a car and smoke pot at the same time. Three — having a sexual relationship outside your marriage is OK. Four — and my personal favorite — LIE. Lie to your parents, lie to your friends, lie to your family, lie to yourself."

Dockery said the church community is still reeling from what Cappuccio did, and that members are keeping a watchful eye on their children.

"If you can't trust the goodlooking, churchgoing DA, then who can you trust?" she asked.

Fritsch had a wide range of choices for sentencing Cappuccio. State sentencing guidelines allowed for probation, or a jail sentence of as much as 18 months.

While on house arrest, Cappuccio will be permitted to leave his home only to go to work or doctor appointments. Fritsch ordered him to undergo psychological testing and counseling, and perform 200 hours of community service in a setting that doesn't involve children. Cappuccio also must serve seven years of probation and was ordered to have no contact with the victims.

"You put your own wants above the rules you were pledged to enforce," Fritsch said

Cappuccio's attorney, Louis Busico, stressed that his client pleaded guilty to spare the victims the trauma of taking the witness stand. He said Cappuccio's crimes were the result of him living a closeted life as a homosexual.

"He was living a lie," Busico said. "The lesson here is that you have to be true to yourself."

Costanzo disagreed.

"This isn't a case about his struggles with his sexual identity," Costanzo said. "It is about an adult put in a position of trust with children, and violating that trust."

The state Attorney General's Office handled Cappuccio's prosecution to avoid a conflict.

Fritsch was a high-ranking prosecutor when Cappuccio worked as a summer intern in the DA's office, and oversaw at least one of his jury trials. Neither prosecutors nor defense attorneys raised a conflict with Fritsch's assignment to the case.

Cappuccio's former boss, District Attorney Michelle Henry, said that the case was a lesson for others who would endanger children. "Today's conviction and sentencing clearly establish that no one is above the law," she said.