Mater Dei's Season Is Ended by Fairfax

By Eric Sondheimer
Los Angeles Times
March 11, 2009

http://www.latimes.com/sports/la-sp-high-school-basketball11-2009mar11,0,5709799.story

Five days ago, the Santa Ana Mater Dei High boys' basketball team was undefeated, ranked No. 1 in the country by USA Today and being mentioned as possibly the best in the school's storied history.

Now the Monarchs' season is over after Los Angeles Fairfax pulled away for a stunning 79-64 victory on Tuesday night in a Southern California Division I regional quarterfinal at Mater Dei.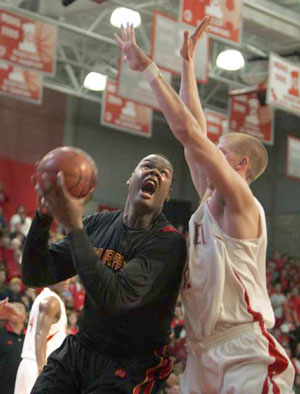 Fairfax's Renardo Sidney attempts a shot through the defense of Mater Dei's David Wear.
Photo by Christine Cotter


It was the second 15-point defeat in four days for the third-seeded Monarchs (31-2), who also lost to Riverside King on Saturday in the Southern Section Division I-AA championship.

"Unfortunately, we just hit a wall the last few days and didn't play well," Mater Dei Coach Gary McKnight said.

Junior guard Jordan Weathers made a career-high seven three-point baskets and finished with 23 points for sixth-seeded Fairfax (27-4), which advanced to play second-seeded Westchester in a semifinal Thursday at Los Angeles Southwest College. The Western League rivals split their two games during the regular season but were denied a third meeting when Woodland Hills Taft upset Fairfax in a City Section semifinal.

"A lot of people doubted us and didn't think we could win because we lost to Taft," said Weathers, who had not played since suffering a sprained right ankle in the first quarter of that defeat.

Senior forward Solomon Hill had 19 points and 11 rebounds and junior guard Donte McFrazier had 19 points for Fairfax. Senior center Renardo Sidney had 10 points and played only 23 minutes because of foul trouble.

Senior forward David Wear had 21 points and 11 rebounds and junior guard Tyler Lamb had 19 points for Mater Dei.

-- Ben Bolch at Taft 54, Compton Dominguez 52 --Terran Carter scored 16 points and had 13 rebounds to help the Toreadors (27-4) advance to a semifinal Thursday against King. The Toreadors fell behind, 15-0, and made only one of 10 shots in the first quarter but rallied behind Carter, who connected on a basket with 29 seconds left to give Taft a 53-49 lead.

Justin Hawkins made a three-pointer with 2:39 left to put Taft ahead, 51-48. Keala King scored 17 points for Dominguez (26-7).