Zubik Announces "Service of Apology"

By Bill Vidonic
Beaver County Times
March 13, 2009

http://www.timesonline.com/articles/2009/03/12/news/doc49b9a989dcf2e275844126.txt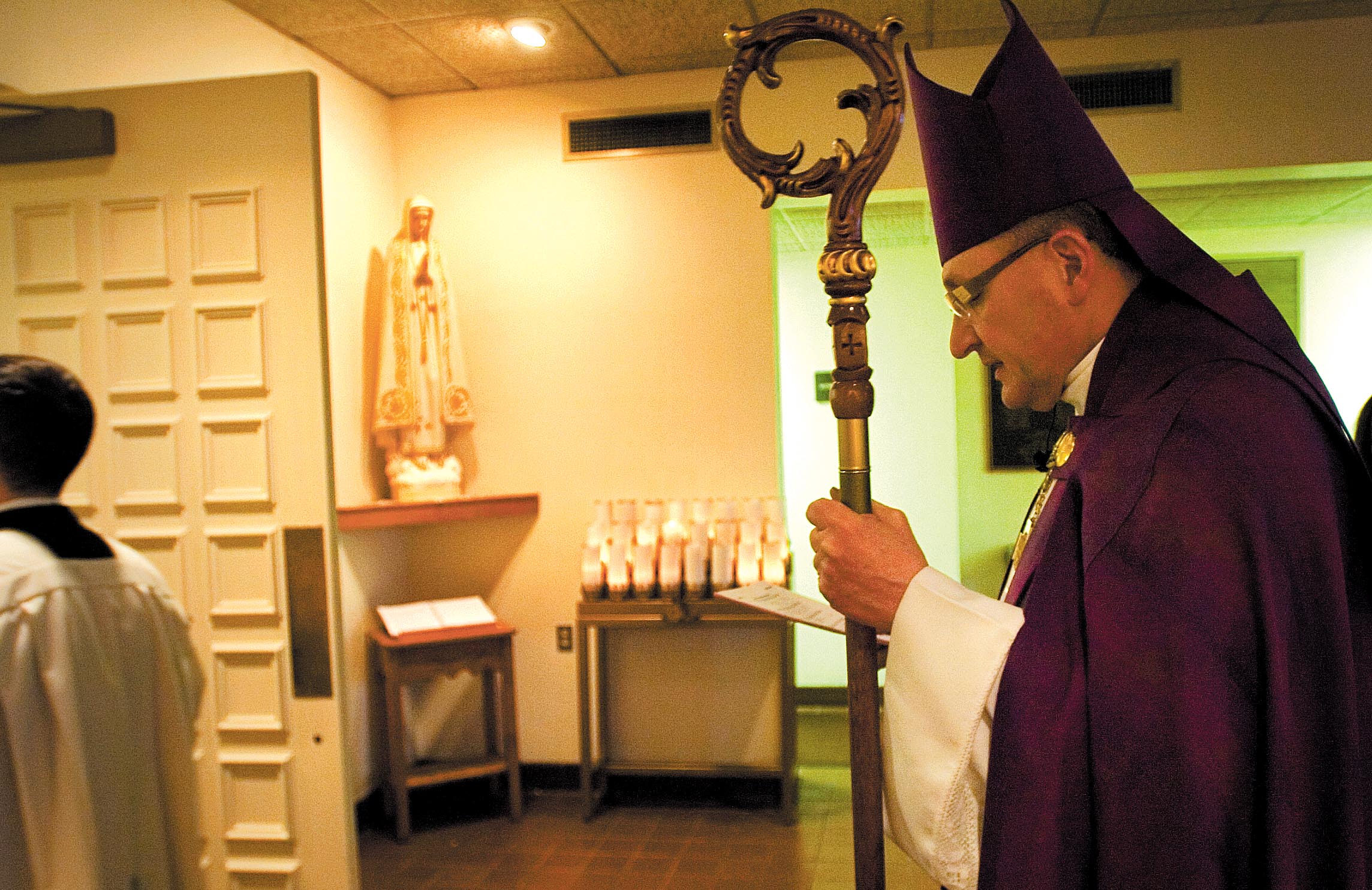 Times photo by KEVIN LORENZI Bishop David Zubik walks into the nave before the start of a penance service at Our Lady of Fatima church on Thursday.



PITTSBURGH — In an unprecedented move for the Pittsburgh Catholic Diocese, Bishop David Zubik is reaching out to people who were harmed by anyone acting under the auspices of the church.

Thursday, Zubik announced he will lead a "Service of Apology" prayer session on April 7, beginning at 7 p.m., at St. Paul Cathedral in Oakland during Holy Week.

Those perceived wrongs could be anything from the mundane to the horrific, as Zubik said the prayer service is for anyone who feels he or she was harmed by the church.

"I think it's an important thing to do," Zubik said Thursday evening before leading a deanery penance service at Our Lady of Fatima Catholic Church in Hopewell Township.

In recent years the Catholic Church, including the Pittsburgh diocese, has been rocked by allegations of sexual abuse by priests.

In his most recent column in the Pittsburgh Catholic newspaper, Zubik wrote that some also may have been hurt "by a brusque or sarcastic comment from a leader in the church."

"Have you stayed away from the Sacrament of Penance because some priest decades ago 'yelled' at you in confession? Was there some disagreement while employed with the church that unjustly ended with you losing your job? Were you in any way, in any way, harmed by any representative of the church? Did you feel picked on by a teacher in one of our religious education classes or in one of our schools?" Zubik wrote.

He also wrote, "It is a moment for me as shepherd of this local church to say those three very important but oft-forgotten words, 'I am sorry,' and in doing so to seek forgiveness of anyone hurt by the church."

Zubik hosted a similar prayer service in October 2006, when he was bishop of the diocese in Green Bay, Wis.

Zubik said Thursday evening that the prayer service will be a safe environment; no television cameras will be allowed, and those who attend are being welcomed simply to pray with Zubik.

Those who attend could follow up with their concerns with their pastor if they so desire, Zubik said.

"There will be nothing expected of you but your presence and your willingness to pray with me," Zubik said in a news release announcing the prayer service. "No one will bother you."

Zubik said the service could be a way to welcome back to the church those who have stayed away because of a perceived wrongdoing.

"The church is divine, but it is also very human," Zubik said.