Remembering Eric - 2nd Anniversary of His Death

Wounded Bird
March 13, 2009

http://thewoundedbird.blogspot.com/2009/03/remembering-eric-2nd-anniversary-of-his.html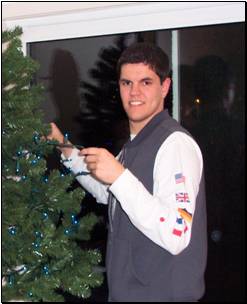 Dear Grandmere Mimi,

Thank you for this opportunity to tell our story. Perhaps it will serve as a cautionary tale, to warn other families who naively trust their own church to "do the right thing" regarding clergy sexual abuse.

Ours is still a very painful story, two years after Eric's untimely death. His is the story of a young gay man, who felt called to priesthood in the Orthodox Church in America (hereafter the OCA). We're convinced that Eric is just one of many young LGBT's who have been sexually abused by opportunistic clergy in the various churches over the years.

Eric, like his sisters was raised Roman Catholic. As a teenager he followed his dad into the Orthodox Church; his mom and sisters remained Catholic. Eric's story is basically the tragic intersection of a devout, socially conscious and intelligent young man with a troubled married priest, Fr. Timothy Blumentritt and an equally troubled Orthodox Church jurisdiction "the OCA". Fr. Blumentritt was responsible for Pastoral Care of all students at St. Vladimir's Orthodox Theological Seminary in Crestwood, NY. Eric went to Fr. Tim, his 'spiritual father', for counseling to deal with childhood issues. Like many of his fellow seminarians, Eric was an ACOA, an Adult Child of an Alcoholic.

Basically, as told to us by our son, this priest/counselor breached appropriate counselor-counselee boundaries, POKROV.ORG justifying this sexual abuse as a bizarre form of "reparative therapy". This "grooming" was all on the sly, and after nearly a year and a half of this treatment, Eric blew the whistle on this horrible exploitation of 'spiritual fatherhood'. He also told us that "Fr. Tim" monitored his phone calls, web surfing and emails in his attempt to control Eric's life. Then Eric told us that the Church and seminary used this same information to pressure him into signing off on the legal release. The one (!) priest in the whole Orthodox Church in America (OCA) jurisdiction charged with investigating claims of sexual misconduct, was uncertified [the OCA's own governing body, the Metropolitan Council acknowledges this to be a fact], and has recently been dismissed from these duties. See here and here.

Many Orthodox jurisdictions have clergy sexual abuse policies which in practice appear to not be worth the paper on which they're printed. Signing a legal release was the price our trusting son paid for getting this man defrocked (and which we consider a mere slap on the wrist). See POKROV.ORG

Only shortly before this, Eric formally came out to his family and told us of the abuse. If you go to OCANews, you'll see this church's administration and hierarchy have long been compromised by financial misappropriation and other improprieties.

Eric finished his MDiv degree, but by then was affected by PTSD and rapidly descending into depression. After graduation he moved home and was employed locally for a short time. But in spite of meds and intense counseling he could no longer work. He had no history of depression before the abuse. After it came out publicly that he was suing his Church and Seminary, the malicious speculation, gossip and re-victimization began in earnest. He was called all sorts of utter shit, a seducer of priests, etc. etc. See OCANews Archives.

A few clergy and laity publicly came to his defense, notably Cappy Larson and Melanie Sakoda from POKROV.ORG who are moms of sexual abuse survivors in the Orthodox Church in America (OCA).You can't imagine how completely devastated Eric was to realize that he was abandoned and a pariah in the church he loved!

Just weeks later, very early on Monday, March 12th, Eric quietly disappeared. We were absolutely frantic. He drove to Indiana, purchased a shotgun, and came back here to a local motel, and shot himself to death in the early morning hours of Tuesday, March 13th, 2007. Our coroner told us that his body was surrounded by his bible, prayer book, and pictures of himself and his family. She pointedly told us, 'There was no fetishism; Eric clearly had a prayer service before ending his pain'.

The funeral was closed casket. We were grateful for the many seminarians who drove out through a blizzard to come to his funeral.

Fortunately, our family went into grief counseling right away, with a counselor having much expertise working with victims of sexual abuse, and their families. We also became involved in SNAP SNAP (Survivors Network of Those Abused By Priests) and appreciate their on-going support. We've found the leadership of SNAP to be fully supportive, and not the least bit inhibited when we tell them Eric's entire story. They know there is virtually no connection between the sexual abuse of vulnerable adults & sexual orientation. It's only about CONTROL, exploitation and the abuse of power, using "sex" as the convenient "humiliator".

An insightful saying in SNAP is:

"Clergy Sexual Abuse is no more about 'sex', than the Bataan Death March was about 'marching'."

What I haven't described is the emotional toll our son's death has taken on Monica and me, and our daughters. Eric was as kind, honorable, and generous a young man as ever walked this earth. Anyone who actually knew him could verify that. It's true, even if we are his parents. As an undergraduate, he did mission work with abandoned street kids in Guatemala. Later he talked of opening a shelter for runaways, especially LGBT kids. That's the kind of person Eric was. At times we still can't believe he's gone, and miss him more than words can possibly say. We live every day with the rage and the pain, and the injustice. Our family's story is living proof of just how toxic "the closet" can be for young gays and lesbians, and their loved ones especially in shame-based churches.

A dear friend of ours and a long time member of SNAP told us something quite profound after Eric's death. Janet Patterson was the mother of a young man who took his own life after having been sexually abused by a Catholic priest. Janet says that in situations involving clergy sexual abuse: 'All the wrong people feel guilty'. See Driven From the Flock.

We (victims, survivors, and their loved ones) invariably "beat ourselves up", for what we could or should have done differently to have a different outcome. Generally speaking, the victim's abusers, enablers, and by-standers seemingly feel ... and certainly show little, if any, remorse. For that matter, apparently only Catholic victims and their families get any form of apology. The best we've ever got from a bishop were 'prayers' and second-hand verbal expressions of 'sympathy at our loss'. We hate that word, "loss". We didn't "lose" our son. He wasn't misplaced. His soul was murdered, and his body and spirit simply followed a short while later.

Throughout the 1930's as the tide of hatred and cowardly indifference toward "the other" was rising in Germany, the "heterodox" Lutheran pastor Dietrich Bonhoeffer taught at an underground seminary for pastors of the Confessing Church at Zingst-Finkenwalde.

It was there in 1935 that he told his students:

'The one who does not cry out for the Jews has no right to sing Gregorian chant'.

Today, we forthrightly submit that:

'The one who does not cry out for the victims of clergy sexual abuse has no right to say the Catholic mass nor sing the Orthodox Divine Liturgy of St. John Chrysostom'.

Perhaps what we've said will be something to take to heart this Lenten season.

John & Monica Kokosinski Iliff

Bloomington, Illinois

I have corresponded with John over a period of some months. On this 2nd anniversary of Eric's death, I ask you to join with me to pray for John and Monica and their family and friends and with Eric's friends to ask God's blessing upon them. May God give them comfort and consolation and the peace that passes understanding to keep their hearts and minds in Christ Jesus.