US Group Welcomes Magee Decision to Stand Aside from Cloyne Governance

By Patsy McGarry
Irish Times
March 16, 2009

http://www.irishtimes.com/newspaper/ireland/2009/0316/1224242907205.html

BISHOP JOHN Magee's decision to stand aside from the governance of Cloyne diocese has been applauded by the Boston-based lay Catholic group Voice of the Faithful (VOTF) as "an example of accountability for bishops everywhere".

It suggested that church leaders worldwide should now examine their consciences and resign if they see that their actions or inactions endangered children by exposing them to sexual predators among the clergy.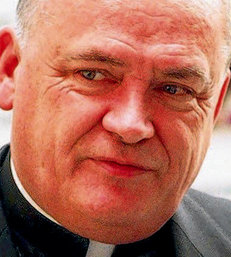 Dr John Magee: his action was described as 'an example of accountability for bishops everywhere'



Sustained pressure from VOTF was significant in the decision of Cardinal Bernard Law to resign as Archbishop of Boston in December 2002 arising from claims that he had handled allegations of clerical child sex abuse in the diocese inappropriately.

The group said it was "pleased to hear that Pope Benedict and Archbishop Diarmuid Martin, in statements to the Irish press, also seek accountability".

It said it hoped "this event signals the beginnings of a new era of accountability for the Catholic Church".

It added: "This is the type of accountability needed to address ongoing fallout from the crime of sex abuse and the cover-ups that so often were enabled by the hierarchy."

Meanwhile, a Cloyne parish priest has written an open letter to Bishop Magee saying he was "deeply hurt by the method, and especially by the words you chose, to announce your stepping-aside and the appointment of an apostolic administrator".

Fr Peadar O'Callaghan, parish priest at Mourne Abbey, Mallow, Co Cork, said: "I believe in my heart that the vast majority of priests in this Diocese of Cloyne have nothing either to be ashamed of, afraid of, or, indeed, to hide.

"But your choice of words to announce your departure has created an atmosphere of suspicion and mistrust of your priests."

He felt this must be addressed immediately.

He noted that Bishop Magee had said he requested the appointment of an apostolic administrator to Cloyne as the volume of work involved in his co-operating with the State investigation into the handling of clerical child sex abuse allegations there made it necessary for him to do so.

This indicated "a huge tragedy, of unimaginable suffering, for a great many children in this diocese".

"If true, this is absolutely shocking and extraordinary news, and I think the people and priests need to know urgently and right now, and while you still retain the title Bishop of Cloyne, what has been kept secret from us."

Fr O'Callaghan's letter was copied to Cardinal Seán Brady, Archbishop Diarmuid Martin, Archbishop Dermot Clifford, who has been appointed apostolic administrator to Cloyne, and the Papal Nuncio Archbishop Leanza.