Mahony Testifies at Molestation Trial
Cardinal Was in Fresno at Time of Alleged Abuse

By Paula Lloyd
Fresno Bee
March 17, 2009

http://www.fresnobee.com/local/story/1268751.html

Cardinal Roger Mahony, leader of the nation's largest Roman Catholic archdiocese in Los Angeles, was the star witness Tuesday in a Fresno County Superior Court civil trial involving two brothers who say a priest molested them as children.

Mahony occupied the witness stand most of Tuesday's first day of testimony.

Brothers George and Howard Santillan say they were sexually abused by their priest, Monsignor Anthony Herdegen, as boys growing up in Wasco. The brothers say the abuse happened from 1959 to 1973 when Howard Santillan was between 5 and 19 years old and George Santillan was between 10 and 15.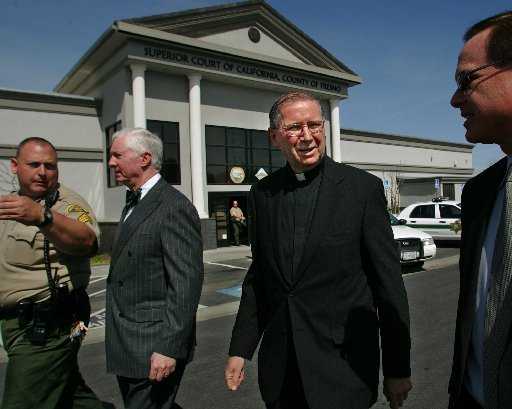 Cardinal Roger Mahony walks out of Fresno County Superior Court on Tuesday. Mahony was on the witness stand testifying in the case of two brothers who say they were molested years ago by a priest at a San Joaquin Valley church.
Photo by Gary Kazanjian


Mahony was a high-level administrator of the Fresno diocese during some of the years the brothers allege they were molested.

Mahony testified that he never heard during his 16 years at the Fresno diocese that Herdegen was massaging and molesting boys in his bedroom, nor did he hear of any other alleged sexual crimes.

"I don't recall any case of any allegation of sexual abuse of a child by a priest, so I don't know how it might have been handled because I never heard of it," Mahony told jurors Tuesday. "Early on, any kind of problem like this to my recollection was looked at as a spiritual failure, that there was a lack of spiritual fortitude and therefore it was treated with a spiritual remedy. We became aware that that wasn't appropriate."

Attorneys for the Santillan brothers questioned Mahony about principles he helped write in 1992 on what church leaders should do if priests were charged with sexual abuse.

Mahony said church leaders were to follow the five principles "step by step." The first principle says church leaders should respond promptly if there is a "reasonable belief" of sexual abuse.

"If you heard in the 1960s that Herdegen massaged one of the boys with alcohol, that would not have raised a concern in your mind?" attorney Anthony M. De Marco asked Mahony.

That might not have raised a concern during simpler times, Mahony said, but it would be a concern today.

De Marco questioned Mahony about a key issue of the trial: whether Herdegen's housekeeper, Barbara Zeilman, knew about the abuse and should have told his superiors. Zeilman died before the brothers filed the lawsuit.

"If the housekeeper really felt the child was in danger, she had to do something," Mahony said. "I would have expected her to immediately tell the leadership of the diocese."

The brothers sued the diocese in 2003 under a one-year window that temporarily lifted the statute of limitations on old abuse claims in California. They contend the diocese was negligent in hiring, supervising and retaining Herdegen, who now lives in Wisconsin.

To prevail, the brothers must prove that the church knew or should have known about Herdegen's alleged misconduct.

The case in Judge Donald Black's courtroom adjourned at 3:30 p.m. Tuesday, and testimony will resume with other witnesses today. Other members of the Catholic leadership in California on the trial's witness list are Archbishop John Quinn and Bishop John T. Steinbock.