Cause for Concern: Many Critical of Decision to Close, Merge Churches

By Ron Vidika
Morning Journal
March 17, 2009

http://www.morningjournal.com/articles/2009/03/17/news/doc49bf274dc0ca6968527171.txt

LORAIN — Reactions to Bishop Richard Lennon's weekend letter on church closings and mergers range from a letter-writing campaign to a single letter being written by a local pastor, all critical of the bishop's decision.

Lennon sent letters to each of the 224 churches in the Cleveland Catholic Diocese over the weekend detailing his reconfiguration plan for the churches.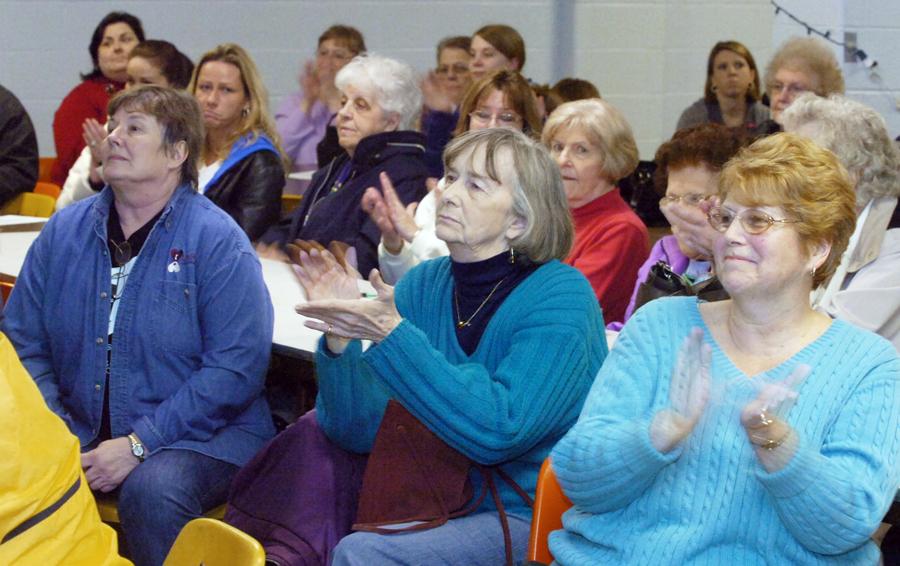 MORNING JOURNAL/NATE PARSONS St. Mary parishioners nearly all their lives Joyce Stitak, front left, Jeanne Frances and Ellen Endrizall, right, applaud charity works done by St. Marys' parishioners.



A total of 29 out of 224 churches in the Cleveland Catholic Diocese will close their doors by June 30, 2010, and 41 churches have been instructed to merge with one or more churches. The mergers will result in the creation of 18 new parishes.

St. Mary Church on Seventh Street in Lorain did not expect to be told to merge with Holy Trinity Church, 2428 Elyria Ave., and a protest is being planned.

The nearby Nativity of the Blessed Virgin Mary Church, 1454 Lexington Ave., will remain open.

Dawn Medina, a St. Mary Church member, initiated a letter-writing campaign last night in the cafeteria of the old St. Mary School.

"I have 500 envelopes," Medina said early in the day. "We had a list of all the parishioners and divided it amongst three people. We made phone calls the night before to get the word out. People can write a letter and send it to the bishop or we'll pick it up and send it ourselves."

Medina said she anticipated several hundred people would attend the letter-writing campaign.

"I was very shocked," Medina said of the bishop's letter. "We were always kept informed by Father Divis as to how their cluster meeting went. We were all caught off guard. The recommendation submitted (by the cluster committee) was not the outcome."

People helping in the letter-writing campaign "won't only be St. Mary parishioners but friends of ours at St. Peter who were in our cluster and friends who are parishioners in other churches who know the good that St. Mary does with its outreach programs that are vital to the whole neighborhood. There's a lot of people who need our choice food pantry and coat giveaway. They are the ones who are really going to hurt from the closing. It's going to have a ripple effect," Medina said.

"We don't know exactly how he came to that conclusion so we don't know exactly what the issues are to address," said the Rev. Dan Divis, pastor of St. Mary Church, Lorain, of Lennon's directive that St. Mary merge with Holy Trinity Church to form a new parish.

"The viability of our parish must not have been understood by the bishop," he said.

The bishop's letter also said St. Ladislaus, St. Stanislaus and St. Joseph churches in Lorain will be closed.

"My reaction to the bishop's letter is that we had a cluster committee team and they met for many months and went through deliberations, discussions, thorough planning and thinking out our entire proposal, and it was ignored. That's the only word I can come up with," said Deacon Lou Maldonado, pastor of St. Joseph Church, West 15th Street, Lorain. "His (Lennon's) decision is nothing what we expected."

"I don't think it would help to appeal. We were hoping a merger would happen to form a new parish at Holy Trinity. We were just told (in the bishop's letter) we were to close. The church members are asking, 'What about us?'" Maldonado said of the 190 households who belong to St. Joseph.

In May 2007, Lennon ordered 18 regional groups of parishes to prepare recommendations for closing or merging parishes in response to population shifts, financial red ink and a shortage of clergy. Diocesan committees and officials reviewed plans and submitted proposals to Lennon.

Churches who disagree with the bishop's ruling have a deadline of March 27 to file an appeal. Should a church's appeal be turned down by the bishop, it then has the right to appeal the decision to the Vatican.

The bishop's decision to close St. Joseph and the other churches has cast a long shadow over the St. Joseph Overnight Shelter. Since 1995, the temporary shelter has served as a refuge for homeless men and women in the area.

"I don't know what's going to happen to the shelter," Maldonado said. "The fact is, at all pulpits, we preach love and trust in God and doing good, and the good people here have done that. There's not another parish that has opened its doors to house the hungry and homeless and it seems so unfair to them. We have been expecting this (decision) all along. It's just the fact that nothing has been said about our ministry and what's going to happen with the people here, dispersing them and sending them off to other parishes.

"I intend to write a letter about our feelings. It's not so much an appeal."

St. Vitus Church, 1735 E. 32 St., and Ss. Cyril & Methodius Church, 1709 E. 31 St., have been told to merge with St. John the Baptist, 2140 E. 36th St., on the south side of Lorain.

Sacred Heart Chapel, also in South Lorain, and St. Vincent de Paul Church, on North Ridge Road, Elyria Township, will remain open.

In Elyria, St. Mary on Middle Avenue, St. Agnes on Lake Avenue and St. Jude on Poplar Street, will remain open, while Holy Cross Church on West Avenue and Sacred Heart of Jesus Church on Irondale Street will close.