A Priest the Diocese of Orange Admits Faced an Abuse Accusation Is Still in Ministry in Spain

By Gustavo Arellano
Orange County Weekly
March 18, 2009

http://www.ocweekly.com/2009-03-19/news/edgardo-jimenez-diocese-of-orange/



[See also other articles by Gustavo Arellano.]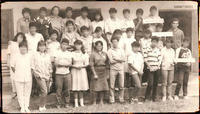 Jimenez (middle row, far right) in Honduras during the 1980s



Where in the World Is Edgardo Jimenez?

A priest the Diocese of Orange admits it removed for an abuse accusation is still in ministry—but not in OC

The latest edition of Lonely Planet's Peru guide isn't kind to Chimbote, a coastal city of about 350,000 that houses the largest fishing fleet in the South American country. "You'll probably smell that fact before you see it," a writer snarkily remarks.

But there's another foul stench permeating Peru's eighth-largest city, one that wafts all the way from the Andes to Anaheim, Central America to Europe. The Weekly has learned that a priest whom the Catholic Diocese of Orange admitted had faced "credible allegations" that he had committed sexual abuse, yet never had his case heard in a criminal or civil court, is still in ministry.

The story of how Edgardo Arrunategui Jimenez evaded the law to land a cushy gig at Santa Maria del Parque, a picturesque parish in Madrid, isn't a mere blast from the past: Two of his enablers continue to hold influential positions in Orange Bishop Tod D. Brown's hierarchy.

Jimenez was ordained in his native Peru in the early 1980s, according to the 1988 edition of The Official Catholic Directory, an annual publication that lists the parochial assignments of priests in the United States. He left his home country in the mid-1980s to serve at San Miguel Arcangel in Marcala, Honduras, organizing youth retreats.

The priest arrived in the Orange diocese in 1987, landing at St. Mary's in Fullerton, a heavily Latino parish. Church records state that Jimenez remained until 1989, when officials transferred him to St. Anthony Claret in Anaheim. He only stayed about one year, but Gabriela Gonzalez remembers the priest well. "His Masses were always the best-attended," the 31-year-old Anaheim resident says. "His sermons were really powerful, and he seemed to care a lot about young people." But Gonzalez also recalls that friends who served as altar boys under him "seemed to change after helping Father Edgardo."

When Jimenez left St. Anthony Claret, it shocked parishioners. Diocesan officials told the St. Anthony Claret faithful Jimenez was going to Peru for missionary work. Replacing him was Jerome Henson, most famous for having once been caught in a Sacramento graveyard with a 13-year-old boy's legs wrapped around his head.

Orange diocese officials never publicly explained their removal of Jimenez until 2004, when the United States Conference of Catholic Bishops required all American dioceses to submit the names of its confirmed pedophile priests to researchers at the John Jay College of Criminal Justice in New York. In a Jan. 10, 2004, press release, diocesan spokesman Joseph Fenton included Jimenez along with 15 other priests that Bishop Brown had reported to John Jay investigators. In Orwellian terms, Fenton stated those clergymen had faced "credible allegations." Everyone on the list, with the exception of Jimenez, has subsequently been shown in once-confidential personnel files to have molested children and have had civil cases against them and the Orange diocese settled for millions of dollars.


The priest (second from right) with Honduran children



Fenton told The Orange County Register at the time of the release he had no idea of Jimenez's whereabouts, stating, "these are cases we dealt with years ago." But the three men at the top of the Orange diocese in 1991—bishops Norman McFarland and Michael Driscoll and then-chancellor John Urell (who was in charge of investigating sex-abuse allegations; he's now pastor at St. Timothy in Laguna Niguel)—never reported Jimenez, as required by law, to Child Protective Services, filed a police report with the Anaheim Police Department, or lodged a complaint with the district attorney's office.

The statute of limitations to prosecute organizations required to report child abuse who fail to do so is just a year, according to DA spokeswoman Susan Kang Schroeder, but Jimenez's victims can still file criminal charges. "We would urge them to come forward," she says. "It's not too late to get justice."

Jimenez's whereabouts through the 1990s remain unknown. He appeared in a 2002 Chimbote online directory as pastor at Santa Teresa de Avila Church. Records obtained by the Weekly show that Jimenez subsequently left for Spain and not only bounced from parish to parish, but also used different variations of his full name at each stop. In 2004, he served at Nuestra Senora de la Fuencisla in Madrid as Horacio Edgardo Arrunategui. Two years later, archdiocesan officials moved Horacio Edgardo Jimenez Arrunategui to San Lesmes in Alcobendas, a Madrid suburb. And last year, the renamed Horacio Edgardo Jimenez returned to the Spanish capital at Santa Maria del Parque. The Diocese of Chimbote in Peru still lists him as one of its own, however.

This priest wasn't the first whom Diocese of Orange leaders sent abroad in order to evade the law. In 1985, Driscoll—then-chancellor for the Orange diocese, now bishop of Boise—asked church officials in Liverpool, England, to take the Reverend Robert Foley, who had admitted to molesting an 8-year-old boy during a Boy Scouts camping trip organized by St. Justin Martyr in Anaheim. The boy's mother, Driscoll wrote, "has threatened to go to the police," and Foley "is in jeopardy of arrest and possible imprisonment if he remains here." Foley left the U.S. for England soon after; he never faced prosecution.

That same year, Eleuterio Ramos admitted to molesting a teenage boy while at St. Anthony Claret. Driscoll and John Steinbock—then Orange's auxiliary bishop, now the bishop of Fresno—shipped him to Tijuana, where Ramos headed a children's ministry until Orange diocese officials pulled him in 1993 after a victim filed a civil lawsuit.

Not a single church official, whether in the dioceses of Boise, Chimbote or Orange, or the Archdiocese of Madrid, returned the Weekly's messages seeking comment for this story.

Para leer este articulo en espanol, por favor visite aqui.

E-mail: GARELLANO@OCWEEKLY.COM