Priest Sex Case Settled for $1.3M

By Glenda Anderson
The Press Democrat
March 19, 2009

http://www.pressdemocrat.com/article/20090319/NEWS/903191023/1033?Title=Priest-sex-case-settled-for-1-3M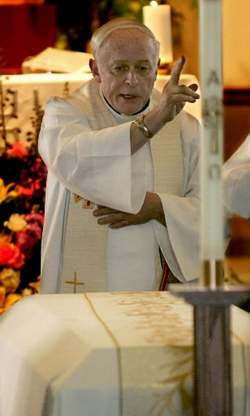 Ted Oswald



The Roman Catholic Diocese of Santa Rosa has agreed to pay $1.3 million to settle a sexual abuse lawsuit filed against a Lake County priest, the attorney for the plaintiffs said Wednesday.

Attorney Richard Simons, reached by phone in London on Wednesday, also disclosed for the first time that there was a second plaintiff in the lawsuit against the Rev. Ted Oswald and the diocese. He said the second man was not mentioned previously because he wants to remain anonymous.

The two men will split the settlement, which does not include an admission of guilt, Simons said.

Adrienne Moran, an attorney for the diocese, said Wednesday the money will come from a diocese self-insurance liability policy plus revenue held from the sale of property on Montgomery Drive in Santa Rosa next to St. Eugene's Parish. She said she could not divulge any other details of the settlement.

The self insurance is provided by the Ordinary Mutual Insurance Co., a group created and owned by 12 dioceses in the Western United States.

Neither the identified plaintiff, Christopher Griego, 32, nor Oswald, 63, could be reached for comment Tuesday or Wednesday.

Calls to Bishop Daniel Walsh on both days were not returned. An employee said the bishop was "very busy."

Oswald is no longer an active priest, according to the diocese, but continues to live in Lakeport and refers to himself as Father Ted on his cell phone voicemail.

The lawsuit claims Oswald sexually abused two boys between 1988 and 1995 while he was serving at St. Mary Immaculate Church in Lakeport and the boys were young parishioners.

Simons said Oswald used his position of authority, combined with bribery of gifts and liquor to coerce the boys into sexual relationships. The relationships with the boys were overlapping, the attorney said.

Oswald was the 17th priest in the Santa Rosa diocese to have been accused of sexual molestation, church officials have said. The church has acknowledged paying nearly $25 million to an undisclosed number of people who asserted they were molested by at least six priests. Most victims were preteen boys when the incidents were alleged to have occurred.

Griego claimed the priest's actions caused "emotional distress, psychological harm and injury to his mental and physical health."

The lawsuit filed in Sonoma County Superior Court in 2007 contends that Diocese of Santa Rosa failed to protect Griego.

In addition to being a priest, Oswald had been a chaplain for the Lakeport Police Department and Lake County Sheriff's Office. He is a former police officer and a Vietnam veteran.

He was ordained a priest in Rome in 1984 after which he was assigned to St. Mary of the Angels Catholic Church in Ukiah. He moved to Lake County four years later.