Antics in Courtroom So Outrageous Even Judge Says, What Are You Even Doing Here?

By Kay Ebeling
Examiner
March 19, 2009

http://www.examiner.com/x-1960-LA-City-Buzz-Examiner~y2009m3d19-Antics-in-courtroom-so-outrageous-even-Judge-says-What-are-you-even-doing-here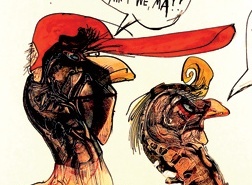 See the resemblance? More below



On all sides of him, church attorneys were popping up and making points. Tim Hale stood alone for the plaintiffs. The two on his left were from San Mateo, in front was the usual gaggle who represent the L.A. archdiocese, the bishop, the corporation, they overlap. Two more defense attorneys from San Francisco had to sit in jury seats. Plus there were a couple questionable creatures in the viewing area next to me.

I did not have to go to Fresno this week to know that Cardinal Mahony would testify, "I don't recall," when they finally got him on the stand, and as reported in about 20 different media outlets, The Archbishop of Los Angeles did go under oath in public in Fresno and say: "I don't recall any case while I was here of allegations of sexual abuse of a child. I don't know how it would be handled because I don't recall it" last week.

Meanwhile here in L.A. Tuesday was a day like any other, with yet another hearing on release of priest personnel files, this time regarding Santa Barbara Franciscan Friars, whose documents were ordered to be released in 2006. The Church has quietly fought against their release ever since. So while mainstream media flocked to report on Roger Mahony testifying, "I don't recall," here from my notes is what took place Tuesday in a hearing in Department 308 L.A. Superior Court, where Judge Emilie Elias at one point crinkled her nose at a church attorney and said, "I don't have any idea what the issue is here."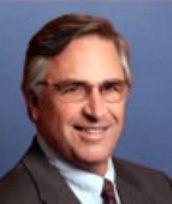 The Real Nicholas Heldt



This church attorney looks a lot like John Boehner, with same indoor tan, same restrained demeanor, Nicholas Heldt of San Francisco stood in the jury box. Judge Elias: What do you mean you represent the Bystanders? Nicholas Heldt, turned his stiff body two inches to the right to better face the judge. His words came through a slip of a mouth from a motor that just kept running, "Your Honor, I represent certain nonparties who object to production of personnel files."

There was a lot of back and forth then, church attorneys just being helpful to the judge so she can get it straight which ones represent which perpetrator priests.

Tim Hale appears to be seven feet tall when he stands, and church attorney voices go over up around and under him. They ran on, "He represents six of the Franciscan brothers, and I represent 11 others, mine are not parties to the cases, those cases have all been dismissed by the way, but they do have private information in the files."

Judge Elias took issue: "Which files? There are more than a hundred boxes stored now in the archives from these cases, another hundred here in my jury room."

As if the judge had not spoken Nicholas Heldt who looks so much like John Boehner continued his monotone drone: "My clients are bystanders, as they are not signatories and they question the authority of this court as a whole."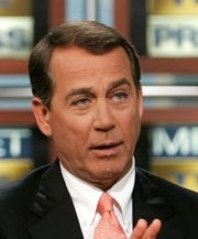 Senate Minority Leader John Boehner



Judge Elias: But we do this all the time. Third parties come in and object all the time based on their privacy rights. They can have due process, make their objections and arguments here."

Getting Deja vue all over again? Read Attorney for pedophile Catholic priests makes jaws drop in LA Superior Court last week: From March 6th hearing, different personnel files, same courtroom, different hearing, same arguments.

The defense attorney on Hale's left jumps up: Robert Howie looks a little like James Cagney, you know, young tough Catholic Irish butch: "The difference in what we are objecting to in court here today is Temporary Trespass." Huh? "It is not your right, you do not have dominion over this property that is going to be published."

They are claiming copyright infringement about letters that are in a 20-30 year old personnel file.

Talk about creative lawyering.

Heldt stands up and again it is as if the Judge had never even spoken, in his nasal monotone he drones on: "Six of my clients are former Friars members and have the right to refuse the release for publication. The Franciscans are just the custodians of property belonging to my clients."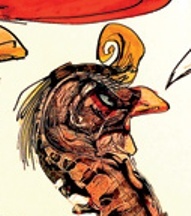 Ralph Steadman demon drawing, see the resemblance?



Judge Emilie Elias: All the time we have records that come in and are put in the court files, used in trials, we use them all the time. Your people can come in and object to the release.

Again Deja Vue

For another ten minutes or so back and forth went Howie and Heldt, with objections that the personnel files were part of discovery, or they weren't part of discovery, whichever argument worked in the moment, and declaring to the judge she has no jurisdiction. All the while, Tim Hale for the Plaintiffs stood tall and waited. Then when the defense attorneys wound down, Hale spoke plainly:

HALE: We are now two and a half years into this battle with a light at the end of the tunnel and suddenly this process can't go forward at all, these jurisdiction and evidence argument are all new.

Howie: My clients are not party to this case.

Then why are you here?

Heldt: My clients are the authors of many letters that are in those files.

Authors?

Judge Emilie Elias: This should have been a motion in front of Judge Lichtman two and a half years ago."

Still the church attorneys keep objecting. All of them being paid by the invisible hands of Catholic Church hierarchy who have orchestrated this abuse of the American legal system throughout the country in the past decade. Likely to the tune of Vatican giggling, attorneys defending different Catholic entities have twisted our benevolent legal system.