Bishop Sets Mass for Victims of Priest Abuse

By Astrid Galvan
Arizona Republic
March 23, 2009

http://www.azcentral.com/arizonarepublic/local/articles/2009/03/23/20090323healingmass0323.html?&wired

In the wake of nearly a decade of cases involving sexual molestations and violence by priests, the Roman Catholic Church has spent millions of dollars on efforts to combat abuse.

Those programs cost $21 million in 2007 and $23 million last year, according to a report released by the United States Conference of Catholic Bishops this month.

But the Diocese of Phoenix goes one step further by celebrating a Mass of "healing and reconciliation," officiated by Bishop Thomas J. Olmsted, for victims of abuse once a year.

But the Mass is not just for sexual-abuse victims, as the Gilbert parish Olmstead has chosen for this year's service indicates.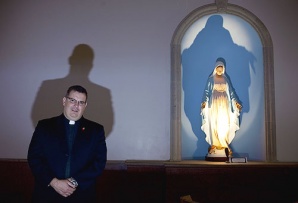 The Rev. Greg Schlarb says the healing Mass is a "reminder to us that the church is not perfect."
Photo by Mark Henle


At 7 p.m. Wednesday, he will visit St. Anne Roman Catholic Parish, 440 E. Elliot Road, where Hispanic members of the congregation seven years ago were rocked by a con artist who had been unwittingly recommended to them by the then-assistant pastor.

During the Mass, the bishop will apologize to victims and pray for their healing. Attendees are encouraged to report abuse if they have not already.

"(Victims) feel validated that their church would hold this type of Mass and that the bishop is the only one who holds this Mass," said Jean SoKol, director of the diocese's Office of Child and Youth Protection. "It's very healing for them."

The selection of churches for this Mass depends in part on past incidents of abuse, SoKol said.

The 2002 incident that led to the selection of St. Anne, a parish that is home to 3,100 registered families, rattled Spanish-speaking members.

The diocese released the Rev. Julio Higuera in April of that year after he had recommended a paralegal who fleeced parishioners of more than $100,000 with promises he could help them secure legal immigration status in six months.

The man, who was never identified, fled town and remains a fugitive.

Still, some parishioners protested Higuera's removal, saying he made an honest mistake.

Diocese spokesman Jim Dwyre said Higuera was removed from ministry and is not allowed to perform Catholic sacraments but is involved in a "renegade church" in Chandler.

Attempts to reach Higuera were unsuccessful.

The Rev. Greg Schlarb, who will assist the bishop at the Wednesday mass, said the 65-year-old congregation has recovered.

Schlarb was not serving at the parish when the incident with Higuera occurred. He said he did not know the details but was looking forward to the Mass.

"It's a good reminder to us that the church is not perfect. We're not trying to hide from it, we're trying to kind of put it out there to let people know: 'If this happened, please come to us,' " he said.

Olmsted declined an interview but said in a prepared statement that "it is important to extend the healing ministry of the Church to people who have been abused in their lives."

Not everyone agrees.

The Survivors Network of those Abused by Priests, which represents 8,000 members nationwide, has been critical of the Masses.

Network national director David Clohessy of St. Louis said he would prefer for church officials to take tangible rather than symbolic steps to prevent future abuse.

The healing masses may temporarily help some victims, Clohessy said, but church officials need to be more proactive in preventing future abuse by taking measures such as posting sexual offenders on Catholic Web sites and in bulletins and newspapers.

The Diocese of Phoenix offers support groups and therapy to abuse victims.

It is one of few dioceses around the country to celebrate healing Masses, Clohessy said.

Rocio Del Valle, 36, a medical assistant from Phoenix, said the two healing Masses she has attended have helped her recover from 13 years of sexual abuse by an unnamed priest.

Del Valle said the abuse began when she was 14.

Pained by her parents' divorce and the discovery of an affair her father had been having, she turned to the priest. He told her he would become her dad.

"That's how he got my trust," she said.

Over the next 13 years, she saw the priest weekly as part of a "healing process" he promised her.

He molested her against her will, though she believed it was in God's name.

"I used to see him as a saint," Del Valle said.

He controlled every aspect of her life until she turned 27.

Del Valle abandoned the church for eight years and struggled with depression until she attended the healing Masses, she said.

The first Mass was difficult, she said, because it made her realize she had been abused, but the second Mass made her see it was not her fault, she said.

Seeing the bishop was important to Del Valle, now a mother of three.

"It's like making us feel like they believe us, that they believe what happened to us," she said.