Judge Sentences Second Priest to 4-year Term

By Usan Spencer-Wendel
Palm Beach Post
March 25, 2009

http://www.palmbeachpost.com/localnews/content/local_news/epaper/2009/03/25/0325guinan.html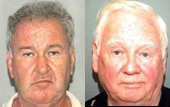 Former Delray Beach priests Francis Guinan (left) and John A. Skehan misappropriated $8.6 million from their church, authorities say.



WEST PALM BEACH — A 66-year-old priest convicted of stealing money from a Delray Beach parish must serve four years in prison for the crime.

Circuit Judge Krista Marx ordered the sentence Wednesday with some parting words for the Rev. Francis Guinan, calling his actions of skimming the offering plates "unmitigated greed and unmitigated gall."

"Your legacy will always be one of thievery and deceit," Marx said.

Marx presided over the trial of Guinan last month, when jurors convicted him of second-degree felony grand theft between $20,000 and $100,000.

The judge said she found the finger-pointing and blame-shifting troubling throughout the trial: the theory that it was the church's fault for lax accounting practices. The irony, she said, as one witness had observed: "The church was relying on the honesty and integrity of the priests."

The true victims were those who sat in the pews of St. Vincent Ferrer and gave money week after week, she said.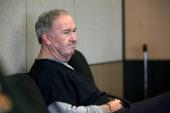 Father Francis Guinan was sentenced to four years in prison this morning for stealing offering money from his Delray Beach congregation.



"I believe the victims are much more far-reaching. Because of your corruption, the charitable hearts of many have been stifled," she said.

Guinan showed no visceral reaction to the prison term.

Defense attorney Richard Barlow said he was happy with the sentence because he thought Marx might levy the maximum punishment of 15 years.

Barlow was not happy, though, about Assistant State Attorney Preston Mighdoll asking for a term of five to 10 years in prison. Just last week, the same prosecutor and a Diocese of Palm Beach official stood before another judge and asked for probation for the Rev. John Skehan.

Skehan, 81, was sentenced Tuesday to 14 months in prison.

Barlow said it was indicative of the secret deals struck behind the scenes since the arrests of Skehan and Guinan in 2006 on grand theft charges. He said it also indicated the bitterness and anger on the part of prosecutors, punishing Guinan for exercising his right to go to trial.

The six-day trial last month was a public relations nightmare for the diocese, with a train of priests testifying as to money being regularly hidden from the diocese and a lack of auditing and bookkeeping - a practice the diocese has since shored up with mandatory biennial audits at churches.

Mighdoll responded that there was a distinction between Skehan and Guinan. He said Skehan had been immediately remorseful, cooperative, ultimately admitted his guilt and made more than $750,000 in restitution. Guinan had done none of those.

"The only acknowledgment he made was that it looked bad," Mighdoll said.

Guinan spoke briefly before Marx sentenced him, apologizing to secretaries, parishioners and family he so disappointed. He asked that the month he has been incarcerated be enough.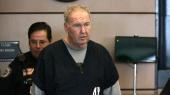 Guinan testified, apologizing, asking Circuit Judge Krista Marx if his month jail seems sufficient punishment.



"I'd like to think that's sufficient time in jail," he told the judge.

Marx pursed her lips.

The Very Rev. Tom Skindeleski, St. Vincent Ferrer's current pastor, said outside court that his thoughts were in a jumble. "I'm just glad it's over and justice has run its course," Skindeleski said.

That thought, too, echoed from law enforcement agents who worked the case: the lead detective from Delray Beach, Thomas Whatley, now retired; and Florida Department of Law Enforcement special agent Mike Driscoll.

"It's closure," Driscoll said. "It's good for the parish and the community it's finally come to an end."