Bishop at OMC Seeks Help for World's Poor

By Walter Fox
The Chestnut Hill Local
March 26, 2009

http://chestnuthilllocal.com/issues/2009.03.26/news2.html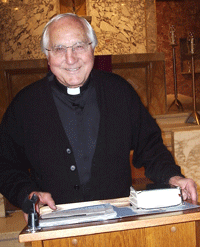 Bishop Thomas J. Gumbleton
Photo by Walter Fox


Bishop Thomas J. Gumbleton, a retired auxiliary bishop of the Catholic Archdiocese of Detroit and an internationally known peace activist, urged his listeners at Our Mother of Consolation Church to do whatever they can to change a world in which injustice and poverty abound to one "where justice prevails."

Speaking Sunday afternoon at a program sponsored by the church's Peace and Justice Committee, Gumbleton stressed the plight of the world's poor, one billion of whom, he said, live in what he described as "absolute poverty."

"It is so degrading you can't call it human," he said.

In a world that he said had adequate resources for its entire population, he pointed out that one-fifth of that population is consuming 87 percent of the planet's resources. Beyond that, he said, was the widening income gap between the world's richest and poorest sectors.

"In the '60s, it was 30 to 1, and in the '70s and '80s, it was 50 to 1 – now it's 90 to 1," he said."

Saying that "God made the world and its goods for all," he told an audience of more than 100 that those who had more than they needed had an obligation to share it with those who cannot meet their needs.

"What we have in excess of our needs really belongs to them," he said.

Noting that "redistribution of wealth" was often derided as a Marxist or Communist concept, he said the idea was essentially Christian since its goal is to give "everyone a chance for a full human life."

Gumbleton also called attention to what he called "structures of injustice" — structures or organizations that create injustice by their very operation. He said it would be a "social sin" for Christians to participate in such structures.

As an example, he cited the North American Fair Trade Agreement, which, he said, resulted in the eviction of more than a million Mexicans from their small farms to make land available for large-scale corporate agriculture.

"It's not surprising that these farmers would become illegals, seeking work in America," he said.

He added that structural injustice was also the root of economic problems in Haiti, the poorest nation in the Western Hemisphere, where he has been personally involved in efforts to improve the living conditions of its people.

He called on the audience to change these structures and to "transform our world to as close to an image of the reign of God as possible."

A longtime activist for peace and justice issues, Gumbleton was arrested twice outside the White House for participating in civil disobedience with groups protesting nuclear weapons and the Iraq War – the only Roman Catholic bishop in America to have done so. He has also been an advocate within the Church for homosexuals and victims of clerical sexual abuse, and has been honored by numerous awards and honorary degrees for his work.

Sunday's program, entitled "Catholic Social Teaching and the Common Good," also featured a report by Johanna Berrigan of the House of Grace Catholic Worker Community in Kensington on a health care project that the group sponsors in Klink Sen Michel, Haiti. Bishop Gumbleton is a participant in the project.