Jailed Priests Leave behind "a Legacy of Deceit and Thievery"

By Shane Hickey
Irish Independent
March 26, 2009

http://www.independent.ie/world-news/jailed-priests-leave-behind-a-legacy-of-deceit-and-thievery-1686529.html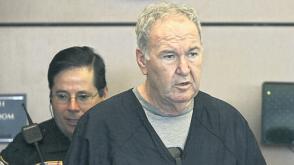 Fr Francis Guinan is photographed in court before being convicted and jailed for stealing money from his Florida parish



AN IRISH priest who stole thousands of dollars from his US parishioners has been sentenced to four years in prison for what a Florida judge said was a flagrant abuse of authority.

Fr Francis Guinan (66) was yesterday led away to custody after a damning indictment of his actions in which he and another priest, Fr John Skehan (81), skimmed money from their parish to live an affluent life.

"No matter how many good works you have performed in your many years as a priest, your legacy will always be one of thievery and deceit," Judge Krista Marx told Fr Guinan, who is originally from Co Offaly.

On Tuesday, Fr Skehan was jailed for 14 months. He pleaded guilty to taking the money to spend on personal trips, a girlfriend and various properties.

It is understood Fr Guinan received a heavier sentence because he refused to plead guilty and opted for a jury trial.

Fr Guinan was Fr Skehan's successor at the St Vincent Ferrer Catholic Church in Delray Beach, Florida. The two priests were initially charged with grand theft of more than $100,000, with allegations that the combined thefts were many millions.

A jury found Fr Guinan guilty of a lesser charge, that he stole between $20,000 and $100,000.

In court, he did not react to the verdict but was described as being noticeably pale when led away.

The judge said Fr Guinan should be punished for his "unmitigated greed and unmitigated gall".

"I believe that the victims in this case are much more far-reaching than that and because of your corruption that the charitable hearts of many have been stifled," said Judge Marx.

As well as the four years he must spend in prison, he will have to pay $99,999.99 to the church which he stole from.

The prosecution attorney in the case had initially called for him to be sentenced to between five and 10 years.

Remorse

"The only acknowledgment he made was that it looked bad," said the prosecutor. "He did not admit his wrongdoing or demonstrate any remorse for his actions."

Fr Guinan had asked that the 32 days spent in jail since his conviction be the total of his incarceration, which he said was "sufficient".

"I'd like to think it'd be more better of a service to society if I were in a position to reach out to people," he said.

A number of priests called for leniency in sentencing during the court appearance.