Pope Initiates Apostolic Visitation of the Legion of Christ

Catholic News Agency
March 31, 2009

http://www.catholicnewsagency.com/new.php?n=15538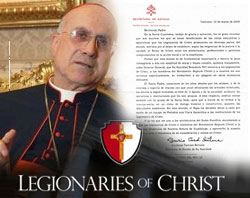 Cardinal Tarcisio Bertone



Vatican City, Mar 31, 2009 / 09:57 am (CNA).- Fr. Alvaro Corcuera, L.C., General Director of the Legionaries of Christ, announced Tuesday that Pope Benedict XVI has requested an Apostolic Visitation of the institutions of the Legionaries of Christ that will likely begin after Easter.

In an announcement sent to members of the Legion, Fr. Corcuera makes public the decision announced by the Vaticanís Secretary of State, Cardinal Tarcisio Bertone, in a letter dated March 10.

"I have thanked the Holy Father from the bottom of my heart for offering us this additional assistance in facing our present vicissitudes related to the grave details of our father founderís life," Fr. Corcuera says in a letter.

"We are deeply saddened and sorry, and we sincerely ask for forgiveness from God and from those who have been hurt because of this."

"We are now preparing to receive the Apostolic Visitors who, over the upcoming months, will visit to familiarize themselves closely with the life and apostolate of the Legion of Christ," Corcueraís letter continues.

In his letter to Corcuera, Cardinal Bertone writes: "In this holy season of Lent, a time of grace and salvation, I am pleased to remember that many people benefit from the works of education and service which the Legionaries of Christ carry out in various parts of the world."

"The Holy Father," Cardinal Bertone continues, "is aware of the noble ideals that inspire you and the fortitude and prayerful spirit with which you are facing the current changes. He encourages you to continue seeking the good of the Church and society by means of your own distinctive initiatives and institutions."

"In this regard, you can always count on the help of the Holy See, so that with truth and transparency, in a climate of fraternal and constructive dialogue, you will overcome the present difficulties."

"In this respect, the Holy Father has decided to carry out an Apostolic Visitation to the institutions of the Legionaries of Christ through a team of Prelates."

In a press release, the Legion explained the decision by saying "the Holy Father has decided to help us to overcome our difficulties through an Apostolic Visitation."

On the topic of who will be conducting the visits and when they will take place, the press release notes that "we are still awaiting notification of this information from the Holy See. Most likely, the Apostolic Visitation will begin after Easter and will last for several months."

"While the Apostolic Visitation is taking place, our life and apostolate will continue along its ordinary course. We are ready to welcome the Visitators to our centers and institutions with faith and supernatural spirit, cooperating with them and facilitating their mission," the Legionariesí statement says.