Dead Priest's Sexual Exploits Continue to Haunt Ratzinger

The Freethinker
March 31, 2009

http://freethinker.co.uk/2009/03/31/dead-priest%E2%80%99s-sexual-exploits-continue-to-haunt-ratzinger/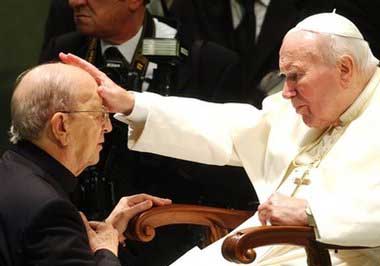 Pope John Paul II gives his blessing to father Marcial Maciel in 2004



A WHILE back – in 2006 – the Vatican was forced to "discipline" the Rev Marcial Maciel Degollado following allegations by nine men who claimed they were abused by cleric while studying under him in Spain and Rome in the 1940s and 1950s.

According to his obituary, Maciel was apparently partial to an occasional "groin massage" administered by young semenarians seminarians. The complainants described how the leader they were taught to think of as the epitome of holiness would say he had an illness in his groin and had been given papal permission to receive help massaging out the pain.

The group, which included respectable academics and former priests, lodged formal charges in Latin at the Vatican in 1998, but were told the following year that the case had been shelved by the Congregation of the Doctrine of the Faith, then headed by Cardinal Joseph Ratzinger, now Pope Benedict XVI.

Still the accusations would not go away. With Pope John Paul II nearing his death in December 2004, the alleged victims received a letter from Ratzinger's office informing them that the case had been reopened.

And in May 2006, over a year after Ratzinger became Pope, the Vatican announced that Maciel would not be tried under canonical law because of his age – he was 85 – but called on him to conduct:

A reserved life of prayer and penance, renouncing every public ministry.

When Maciel – who founded of the ultra-conservative Legionaries of Christ in Mexico in 1941 – turned up his toes at the age of 87 last year, Ratzi imagined that that was the end of the matter.

No chance. It has since come to light that the randy old goat had a relationship with a woman and fathered a daughter who is now in her 20s and living in Spain – and Ratzi has now ordered an investigation into the organization.

According to this report, the Vatican Secretary of State, Cardinal Tarcisio Bertone, said investigators would visit all of the institutions run by the Legionaries of Christ. He said the Vatican was stepping in:

So that with truth and transparency, in a climate of fraternal and constructive dialogue, you will overcome the present difficulties.

Pressure had been building in recent weeks for an external review of the Legion, even among some of the group's staunchest defenders, to see if any of its current leaders had covered up Maciel's wrongdoing and to make sure no further misdeeds were taking place.

The Legionaries' head, the Rev Alvaro Corcuera, said the Legionaries welcomed the Vatican investigation "with deep gratitude".

The Legionaries of Christ became particularly strong in the US and Ireland as well as Mexico, where their close ties to some of the country's richest and most powerful families persist today.

The order's radical anti-communism, unswerving papal loyalty, and success in producing priests made Maciel a favourite of Pope John Paul II, who described him as "a guide to youth".