Archbishop Vincent Nichols Is the New Leader of Catholics in England and Wales, Sources Confirm

By Damian Thompson
Telegraph
April 2, 2009

http://blogs.telegraph.co.uk/damian_thompson/blog/2009/04/02/ archbishop_vincent_nichols_is_the_new_leader_of_catholics_in_ england_and_wales_sources_confirm

The 63-year-old Archbishop of Birmingham is a forceful character who was once regarded as a liberal. But, in recent years, his pastoral gifts have won him friends among Catholics of all varieties - and have persuaded Pope Benedict XVI that he is the man to transform the Church in England and Wales and bring it closer to Rome.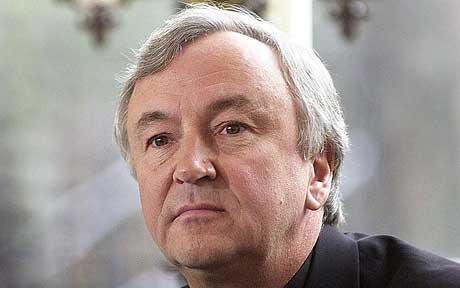 Archbishop Vincent Nichols of Birmingham will succeed Cardinal Cormac Murphy-O'Connor as leader of the Catholic Church in England and Wales, sources confirmed tonight. The news will be formally announced at a press conference at Archbishop's House, Westminster, at 11 am tomorrow morning (Friday).
Photo by


I'm delighted by the news, because all the signs were that the job was going to a less suitable candidate. "Vin", as he is known, may be ambitious – but for a long time now he has been ambitious on behalf of the Catholic Church. He has fought the Catholic corner a good deal harder than many of his fellow bishops, most recently seeing off plans to force Catholic schools to accept a quota of non-Catholic students. He has also given the BBC a hard time for its anti-Catholic stance.

I don't think +Vincent would have been the first choice of many, if any, Catholic traditionalists, who were hoping that the Pope would choose a dynamic conservative outsider. The Archbishop of Birmingham is dynamic, all right, but it would seem ridiculous to describe him as conservative or an outsider.

And yet... Vin Nichols has become more conservative over the years, and more independent-minded. There are some old-style liberals in his entourage, but anyone who saw a recent photograph of the Archbishop cheerfully processing the relics of St Chad around Birmingham Cathedral, dressed to the nines as a proper bishop, will have realised that this is a man who is not afraid to celebrate traditional Catholic culture. (The same, alas, could not be said of Bishop Kieran Conry of Arundel and Brighton.)

His record on the traditional Latin liturgy is patchy. He has never celebrated Mass in the Extraordinary Form, to the best of my knowledge, and has not made much provision for it. On the other hand, I think we can be confident that he will not restrict its celebration in Westminster Cathedral in the way that the current Cardinal has.

Which brings me to a delicate subject. Many, many sources have told me that +Vincent was not Cardinal Cormac's choice as successor. I don't think this is the time to labour the point, but the odd thing is that Archbishop Nicholas has become something of an outsider in recent years, though in a good way.

As general secretary of the Bishops' Conference, the then Mgr Nichols helped create the Magic Circle, the dreadful politically correct, self-perpetuating bureaucracy in Eccleston Square which these days is more interested in social engineering and environmentalist rhetoric than in promoting Catholic teaching. But, recently, he has made no secret of his impatience with its sclerotic structures. Those expensive committees must be disbanded.

It's time for change in the Church in England and Wales; time for firm leadership at last. That is not the sole responsibility of the Archbishop of Westminster, of course. A number of important sees will become vacant soon, and my guess is that one of them will fall to a true "Benedictine" - an enthusiast for Benedict XVI's liturgical reforms.

Archbishop Nichols does not match that description - but he is significantly more loyal to the Holy Father than some of his fellow bishops. When Cardinal Ratzinger was elected in 2005, +Vincent welcomed the news. Some of his fellow bishops, who worked hard to stop him moving to Westminster, will now no doubt be saying that he has got his reward.

But that is unfair. Archbishop Nichols is unlikely to be made a cardinal until Cardinal Murphy-O'Connor reaches the age of 80 in 2012. So his new post does not carry with it the status of a Prince of the Church. Cynics would say that this might explain why +Vincent did not seem especially anxious to leave Birmingham. A better explanation is that he is probably dismayed by the scale of the challenge he faces. The Church in England and Wales is in far sharper decline than it need be, thanks to a Bishops' Conference lacking in imagination and talent. That cannot be said of Vincent Gerard Nichols, who is a sensitive pastor - as friends of mine have experienced - and a bit of a bruiser. Which is no bad thing.