'Ambitious' Archbishop of Birmingham to Be Announced As New Head of Catholic Church

By Sophie Borland
Daily Mail
April 3, 2009

http://www.dailymail.co.uk/news/article-1166915/Archbishop-Birmingham-new-head-Catholic-Church.html

The Archbishop of Birmingham, the Most Rev Vincent Nichols, is expected to be announced this morning as the new head of the Roman Catholic Church in England and Wales.

Archbishop Nichols, 63, a protegé of the late Cardinal Basil Hume, is likely to succeed the current Cardinal Comac Murphy O'Connor when he retires soon after Easter.

He has been personally chosen by Pope Benedict XVI after he returned from his recent trip to Africa.

The Congregation for Bishops had failed to agree on a successor to the Cardinal, who will be the first Archbishop of Westminster not to die in office.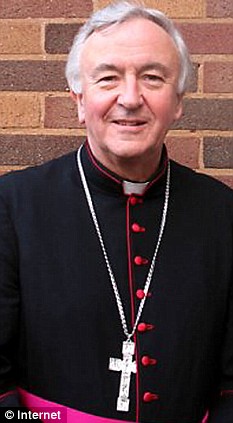 Archbishop Vincent Nichols is set to be announced as the new Catholic leader



But his appointment will be seen as controversial and in recent weeks several senior figures in the Catholic Church have voiced their concern at Archbishop Nichols' attitude.

Last month leading bishops wrote a confidential letter to the Papal Nuncio, Archbishop Faustino Sainz Munoz, who is based in London as the Vatican's ambassador, warning of his 'divisive' nature.

One bishop was reported as saying: 'I said that I was uncomfortable with someone who is clearly so ambitious.'

Another diocesan bishop revealed that he had serious reservations over the character and style of Archbishop Nichols.

'The confidence he has in himself and in his views is not always shared by those around him,' he said.

'He could do with learning a little humility.'

One un-named MP, who also wrote to the Papal, said that they had stressed that they did not want the next Archbishop to be 'a career churchman'.

Archbishop Nichols, who has also been criticised for being overconfident, was one of several names included on the shortlist that was sent to the Vatican in mid-January.

Other candidates were Peter Smith, the Archbishop of Cardiff and Bishop Malcolm McMahon of Nottingham, who Cardinal Murphy-O'Connor is understood to want as his successor.

Archbishop Nichols has often been outspoken in his defence of the church and in his criticism of secular society and last month claimed Britain had 'sold its soul to science.'

He said that because only provable facts were considered valuable, arguments based on morality and spirituality were ignored.

Writing in a book about the rise of secularism, called The Nation That Forgot God, he said: 'Quite simply we have sold our soul to a positivistic understanding of reason.

'The rigorously secular, liberal project of community cohesion is mistaken in its fundamental view of the human person and simply will not work.'

The Bishop of Leeds, Arthur Roche, was the runner-up to be head of the Roman Catholic Church.

The Bishop, who has recently been the subject of protests after he closed several churches, will now be invited to take up a senior position with the Congregation for Divine Worship in Rome.