Pope Names Paul J. Bradley New Bishop of Diocese of Kalamazoo

By Lee A. Dean
Kalamazoo Gazette
April 6, 2009

http://www.mlive.com/news/kalamazoo/index.ssf/2009/04/pope_names_paul_j_bradley_new.html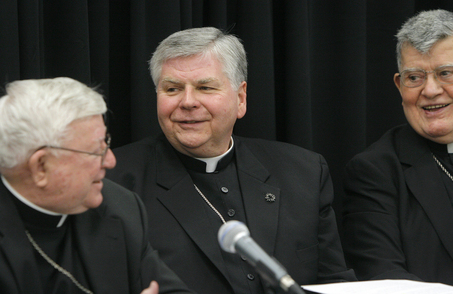 From left, the Most Rev. James A. Murray, Diocese of Kalamazoo, the Most Rev. Paul J. Bradley, Bishop designate, Diocese of Kalamazoo and the Most Rev. Paul V. Donovan, Bishop Emeritus, assemble at the St. Augustine Cathedral Rectory during the official announcement that Bishop Bradley of Pittsburgh has been selected as new bishop of the Diocese of Kalamazoo.
Photo by Mark Bugnask


KALAMAZOO -- The fourth bishop in the history of the Roman Catholic Diocese of Kalamazoo has been appointed by Pope Benedict XVI.

Auxiliary Bishop Paul J. Bradley, 63, of the Diocese of Pittsburgh, will be officially installed as the new Kalamazoo bishop on June 5.

He will succeed Bishop James A. Murray, who has continued to serve since he submitted his resignation to the pope upon reaching his 75th birthday in July 2007, as required by church law.

The new bishop is a native of Pittsburgh and has spent the majority of his clerical career serving the Diocese of Pittsburgh in a variety of pastoral and administrative roles. He began serving as auxiliary bishop of that diocese in 2004. In 2006 he was named administrator of the Pittsburgh diocese and oversaw its daily operations until the installation of a new bishop in 2007.

Bradley's appointment was announced early this morning, and he appeared at a 10 a.m. press conference with Murray at the St. Augustine rectory, in downtown Kalamazoo.

Bradley said he is now in the process of learning as much as he can about his new diocese. He and Murray have started the process of transition, which will involve long-distance consultations between Kalamazoo and Pittsburgh until the June 5 installation, set for 2 p.m. at St. Augustine Cathedral.

Bradley added that he received one bit of useful information Sunday evening at the Kalamazoo-Battle Creek International Airport. "A man said to me, 'This is Kalamazoo and it's my home and I'm happy to be back.' I thought that said it all. That's all you need to know about a place," Bradley said. "This is the home of 100,000 Catholics and the home of many people I look forward to leading."

The Kalamazoo diocese encompasses nine southwestern Michigan counties, 46 parishes, 13 missions and 22 Catholic schools.

Murray said he plans to remain in Kalamazoo after Bradley's installation and serve the diocese when needed.

"I'm going to try to learn Spanish," Murray said. "I know enough to say Mass and confirm in Spanish, but I hope to do better. I plan to help out in the parishes. If a priest is sick or wants to get away, we'll have it covered."