Judge Sends Ex-Prosecutor to Prison for Corrupting Teens

By Larry King
Philadelphia Inquirer
April 7, 2009

http://www.philly.com/inquirer/business/homepage/42571907.html

A Bucks County judge changed his mind yesterday and sent a former top prosecutor to prison for endangering and corrupting teenage boys in a church youth group.

On March 10, Anthony Cappuccio had admitted buying alcohol for three of the teens, smoking pot with them, and having a months-long sexual relationship with one boy. Judge C. Theodore Fritsch sentenced him to three to 23 months of house arrest.

Yesterday, Fritsch toughened that sentence considerably, tossing the original punishment and ordering Cappuccio to the county prison for six to 23 months. As he had last month, Fritsch tacked seven years of probation onto the end of the active time.

The original sentence had stunned relatives of the victims and the state Attorney General's Office, which had asked for at least some prison time. Yesterday, relatives of the boys declined to comment on the judge's change of heart, but hugged afterward and said they were "happy."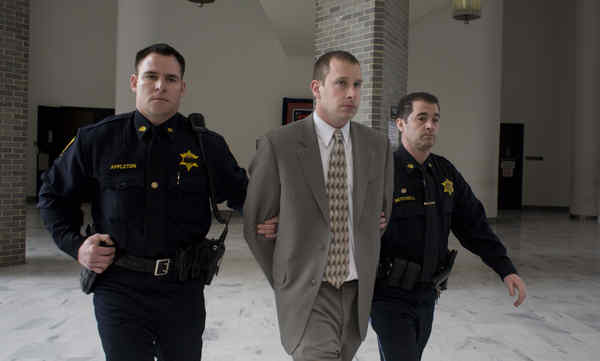 Anthony Cappuccio was led from the courtroom in March after pleading guilty to endangering and corrupting teenage boys.
Photo by Ed Hille


Fritsch said he was not reacting to publicity surrounding the case. Based on "calm reflection," he said, "I do find that a sentence of total incarceration and confinement is appropriate in this case."

Fritsch held the hearing after the Attorney General's Office made the unusual request that he reconsider.

Cappuccio, 32, had been a chief deputy district attorney in Bucks County until early September, when Richland Township police found him partially clothed with a 17-year-old boy in a parked car near Quakertown. He also had been a youth leader at a Perkasie church, where parents had trusted him with their teens because of his standing as a prosecutor.

He was charged Oct. 30 with three felony counts of endangering the welfare of children, one felony count of criminal use of a communication facility, and misdemeanor charges of corrupting minors and furnishing minors with alcohol.

He pleaded guilty to all charges. Fritsch's first sentence was within state guidelines, but allowing him to serve it on house arrest drew gasps from the boys' families.

Senior Deputy Attorney General E. Marc Costanzo had likened the sentence to "being grounded in his room."

Yesterday, Costanzo presented evidence that Cappuccio had not worn an electronic monitor cuff until Thursday. He had been free for 50 to 60 hours per week, during which he worked at a restaurant, underwent counseling, ran personal errands, and attended his own divorce proceedings.

Costanzo noted that Cappuccio had been seen strolling the streets of Doylestown last week during a break in his divorce case.

That last tidbit seemed to nettle the judge, who said he had not realized all the liberties afforded by house arrest in Bucks County. "This was certainly beyond my authorization," Fritsch said.

Costanzo yesterday handed Fritsch a lengthy e-mail from Cappuccio's wife. The judge took a brief recess to read the document, which detailed the extent of Cappuccio's transgressions and the repeated, unsuccessful attempts by her, counselors, and others to get him to change his ways.

Fritsch said he also reconsidered Cappuccio's naming of the victims in his courtroom apology to their families last month.

"Upon reflection . . . I do believe it is appropriate to give less weight to his remorse," the judge said.

Cappuccio was led away in handcuffs without comment.

"You have to respect the judge's decision," said his attorney, Louis Busico. "Certain things were less important this time around than they were the last time. It's just one more piece in this tragic puzzle."

Costanzo praised Fritsch for taking the time to revisit the case and for imposing "a sentence that I thought was more deserving."

Contact staff writer Larry King at 215-345-0446 or lking@phillynews.com.