Da's Hasidic Hotline Heats up Sex Abuse Controversy

By Samuel Newhouse
Brooklyn Daily Eagle
April 7, 2009

http://www.brooklyneagle.com/categories/category.php?category_id=4&id=27424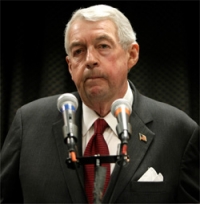 District Attorney Charles J. Hynes



JAY STREET — When Brooklyn District Attorney Charles Hynes opened a hotline for victims of sex-crimes within the orthodox Jewish community, he might have also opened a massive can of worms, politically speaking.

Although some members of Brooklyn's strictly religious communities want protection for victims and prosecution for abusers, Hynes' program could also create new enemies in those who want to keep sex-crime reports out of the public eye — and take care of their own dirty laundry.

Sex-abuse crimes within religious communities are notoriously difficult to prosecute as victims and their family members often face pressure to keep silent, sometimes from their rabbis or priests.

But reports of sex crimes in Brooklyn's orthodox Jewish communities have multiplied in recent months. The District Attorney's Office says that 13 felony and six misdemeanor sex-crimes originating in orthodox Jewish communities are currently under investigation.

Sex crimes within the Orthodox and Hasidic communities of Brooklyn is a controversial issue that community leaders and some rabbis have tried to keep out of headlines by pressuring victims not to speak to authorities.

"Sex crimes exist in every community and are always very difficult for victims to discuss," D.A. Hynes said in a statement. "Because of the insular nature of Orthodox Jewish communities, many victims are reluctant to report crimes to secular authorities. This program will go a long way to address those impediments."

However, the new hotline, called "Kol Tzedek" or Voice of Justice, has already been denounced by some local rabbis, who believe that the D.A.'s Office's secular values don't relate to their Hasidic communities, with one rabbi saying that the hotline would have been started 20 years ago if there was sincere interest in prosecuting these cases.

The hotline was announced last Wednesday. A spokesman for the District Attorney's Office said on Friday that it's a positive sign that they've been receiving calls, but that it was too early to make a judgment about the hotline's success.

A similar hotline was started by a Williamsburg rabbi in February 2007. But Rabbi Nuchem Rosenberg shut the hotline down, claiming he had received death threats, according to the Daily News.

Allegations exist that members of the Orthodox Jewish community, like in the Catholic church's pedophilia scandal, are protecting abusers to conceal the group's dirty laundry. Sexual abuse stories from insular religious communities are often headline-grabbing scandals that give a community an undesirable reputation.

However, prosecutors and social workers involved with the hotline hope that partnerships with Jewish community organizations like the Metropolitan Council on Jewish Poverty, Ohel Children's Home and Family Services and Tikvah at Ohel will help them make an impact on this problem.

Hynes' relationship with the Jewish community is discussed in an upcoming book of essays about Jewish communities and child sex scandals, "Tempest in the Temple."

Editor Amy Neustein told the Eagle that she believes the hotline may have been started to make up for what she wrote of as past failures in prosecutions against sex offenders in Brooklyn's orthodox Jewish community.

The D.A.'s Office dropped molestation charges against one orthodox rabbi in 2000, on what Neustein and co-author Michael Lesher say are shaky grounds.

They co-wrote an essay stating that after Rabbi Solomon Hafner was indicted in 2000 on molestation charges, a rabbinical panel conducted an investigation and presented an argument for Hafner's innocence to prosecutors.

Charges were dropped, but Neustein and Lesher say there is little information about Hafner's defense, whereas the circumstantial evidence against him seemed strong.

An essay written solely by Lesher describes the prosecution of Avrohom Mondrowitz, who was accused of molesting and raping boys while running a school for troubled children and offering counseling services in the 1970s and 80s in Brooklyn.

He fled the country in 1984 and was not returned until last year after a new Israel/U.S. extradition treaty was passed. However, Lesher says that the Brooklyn District Attorney's Office could have pursued Mondrowitz more aggressively during his two decades of political asylum.